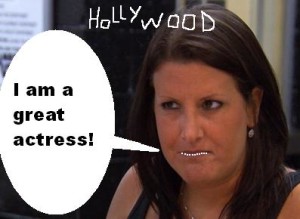 [HOLLYWOOD, CA 7:39pm PST] – She might be annoying and screechy and mushy-faced and a little chunky, but Ashley from the reality show HARDCORE PAWN has been signed to play the part of the diamond expert "Vanda Carlisle" in the mega-budget, Harvey Weinstein remake of the classic James Bond film "Diamonds Are Forever."  The new version will be called, "DIAMONDS ARE FOREVER…and EVER" and filming begins in Paris sometime in June 2013.
"People only know Ashley from her work with her father and brother on the family reality show, Hardcore Pawn, but actually she is a highly trained and experienced actress who graduated from Yale with a degree in Theater Arts and Drama," said famous Bolly-wood director, Sheeky Messhi, who will be sitting in the director's chair for the first time on an American motion picture.
"Ashley is a very strong actress, and I had seen her in a production of 'Come Back Little Sheba" at the Detroit Theater for the Performing Arts,  and she was our first pick for the part of Vanda Carlisle because she is not only a brilliant actress, she handles gem stones like a professional because she is one. 
"I shoot my movies aiming for 100% accuracy, and if an actress has to learn to handle a gem to be in my film, she will not be in it.  Ashley came already equipped with that skill and dexterity.  Even more imporant is that Ashley also fits the description of the character as it was originally written by Ian Fleming.  In the original version of the film, the character of Vanda was left out of the story entirely because the producers and the director couldn't find anyone who fit the part."
People say you can't judge a book by its cover, but that chubby-faced gemologist who rakes in the dough buying and selling diamonds from real people, is now gong to bring in a huge fortune playing with phony diamonds on the set of a film where everything is make believe.  Ashely will star along side of Matt Damon, Paul Rudd, David Bowie and Jennifer Lopez.
EDITOR'S NOTE: Hard to believe that Ashley Broad ( Ashley Gold ) from that dopey show is actually a super actress with a lot of heavy-duty theater experience, and it's even harder to believe that she is being paid in the high six figures for about nine days of filming.  This is Ashley's first motion picture but she has been a stage actress since she was only 8 years old.
Ashley auditioned for the part of Vanda Carlisle on a whim while she and her father Les Gold, the star of Hardcore Pawn were in Los Angeles negotiating a deal for another season of the show.
"She was very confident and lumpy and she had that sweet but nasty smirk on her face when she arrived, and the first thing she said to me was that my wedding ring was worth about $800," continued director Sheeky Messhy. 
"I was a little upset at her because I paid over $4,000 for the ring, but then I got a laugh when she said that she had to lowball me so she could make a profit because 'she was in business to make money.'  You have to admire her chutzpah as they say in Hollywood. 
"As soon as I saw her examine my ring with her eyepiece and then she made that remark with such unbearable false sincerity, I knew I had my diamond-dealing Vanda Carlisle.  The rest of the audition meant nothing.  She had the part right then and there.  As a matter of fact, I did not even bother to watch her audition tape."
Ashley Broad is moving from really bad-ass reality TV to a shot at motion picture super stardom, and who would believe it?  When you think about it, evenry now and then when she drops a few pounds, she's kind of pretty and she has that bad ass diamond dealing femme fatale thing down to a science.