NOTE TO MY READERS: I have included the pilot episode in its entirety. It should appear right over this paragraph. Please watch and enjoy "HAVE YOU MET MISS JONES" starring the legendary Patty McCormack. 
A lot of people ask me about what I watch on American TV or what's my favourite show, and normally I don't have a solid answer.  Of course I like the usual — Seinfeld and Tosh.0 and Monk or Downton Abbey — stuff like that.  Lately, however, people have been asking me something that I know very little about — mainly — "What is your favourite web series?"
I've been looking around at a bunch of the ones that producers send me, and today, a show caught my eye.  BAM!  Just by watching the teaser I knew this show was not only funny, it was different.
So I did what you ordinary folks out there in the dark can't do — I spoke to the creators and writers and I got to watch the whole thing — all ten webisodes as one — the way it was originally written as a full length teleplay.
I usually turn on the TV or go to a movie totally expecting to hate whatever goes up on the screen, but this time I was outrageously impressed.  This is 21st century stuff.  It doesn't even fit into any genre.  Is it a demented soap opera or is there more to it?  There is an unusual element to the style of the show that instantly makes you want to see more and more.
I watched the first 3-minute webisode and I was like, "Hold on a second.  Where is this going?"  When the production company sent me the 30 minute version I was mesmerized by not only the hilarity of the dialogue, I was touched by certain things inherent to the storyline.  I wanted more — and you will too — unless you have no sense of humour, and heaven knows I have plenty of those dregs who come to this page every day.
The web series is called "Have You Met Miss Jones" — and not only is it good — I think it's a little too good for the web.  Why isn't this on a regular network? Well, it seems that the creators wanted to do it this way.
I spoke to the show's creators and writers David Mattia and James Di Gicaomo. ( James Di Giacomo also stars brilliantly as the title character, Miss Angelina Jones).
TDZ – Why is this show on the web and not on regular TV?  It's far better than anything I have ever seen on the web or even on network TV?  It's really funny, it has big stars and great production value. So what's the deal with the web series thing?
James DiGiacomo  — There were some production delays with post-production on the show.  We had problems with editing and tweeking a few things here and there.  It was a little more of a chore than it should have been.  By the time the show was finished we'd passed the deadlines where networks book shows, so we figured we might as well put the pilot up on the web as a web series since that's what we had originally planned anyway. What the web viewers will see as 10 webisodes, was actually written as one 30-minute pilot.
TDZ – How were you able to take a 30-minute pilot and break it up into 10 interesting and self-contained webisodes?
David Mattia – It was a happy accident. There are special spots in the show where we can easily end each web episode without simply cutting it off. .  I like to think we're comedic masters of timing, but actually the show breaks up  because of pure luck and the overall quirky pace of the show itself.  
TDZ – James, you play the part of Miss Jones the title character.  This means that you dress as a woman.  Are you a drag queen or do you play one in the show?
James Di Giacomo–  I am not a drag queen or a cross-dresser and I don't play one even though I play the part of Angelina Jones.  Angelina is…well I don't want to give away any twists and turns in future episodes but I think of her as though I'm working as a male actress in the role.  I have created a lot of other characters with my experience in improv, but this is the one that  was best suited for a concept he had in mind.  Angelina is a weird character and to have a man play the part is a  way to get that message across.  An actress might have to act too much. 
TDZ – How did you guys land a legend like Patty McCormack to costar in this?  I mean, it's really great and very funny, but how did she agree to this?  It's a little unusual to say the least especially since she is very picky about the parts she takes.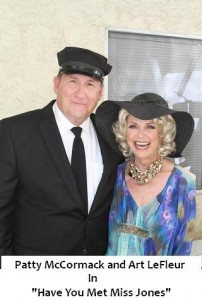 David Mattia –   I was dumbstruck when I met Patty McCormack. Movie fans remember Patty  mostly as the cute little girl with the pig tails who kills people in the classic film The Bad Seed.  I mean, she was nominated for an Academy Award when she was only ten, but when I had to work with her and sat on the set while she acted out lines that I had written, I fell into some kind of a fog. I couldn't believe someone could be so talented.  I felt so unworthy.  
James Di Giacomo – So, when we wanted to cast the part of Angelina Jones' mother, Patty was the obvious choice.  It wasn't like we called her up and she said she would do it, but she loved the script and so did her manager — and it was easy after that.  She is a very special person.  
David Mattia – Did you ever see her in the Sopranos?  I mean, she is great in everything.  To me she's one of the all-time greats and I think James agrees.  It was freaky to hear her reading lines that we wrote.  Totally freaky.
TDZ – Dave, You came from the horse racing business and James is an actor.  I can see how an actor got into this TV thing, but how did you end up writing a show like this?
David Mattia – I was in the harness racing business since I was a kid – trotting racehorses –  but I never really liked it in spite of the fact that all my friends seem to have come from that business.  One of my friends when I was younger was the TV producer and writer Alan Kirschenbaum who was already an established  trainer and on-air personality when I was just starting out.  I had good horses, but Alan thought I had a lot of potential in TV comedy and we stayed in touch after he left the horse business for show business.  Alan knew that I'd had a few screenpays optioned and about ten years ago he told me to make the move from horses to Hollywood but I was always tied down by the dopey horse industry in one way or another. After Alan became a veteran heavy duty Hollywood guy, by some strange coincidence, we're both writing in the same capacity for The Canadian Sportsman magazine.  Alan fell in love with a sentimental thing I wrote in my column about my old cat Meatball, so I finally followed his advice for Meatball's sake. Now he's gone and so some of my enthusiasm. I'm sure I'll get it back but Alan was a great friend and he had a lot of faith in me. 
Editor's note:  Alan Kirschenbaum died suddenly on 26 October, 2012. you can read about that here.  http://www.harnesstracks.com/the-unbearable-devastating-loss-of-alan-kirschenbaum.htm
TDZ – How did you get Dot Jones?  She was red hot when you guys started filming this show.  She was up for an Emmy for her part role in GLEE.  How'd you do that.? How did you get james Kyson and Art LeFleur?  These are all pretty big names for a web series.
David Mattia – James got them.
TDZ – How did you do it, James?
James Di Giacomo – I just got them because that's my job as a producer.   I did what I had to do to get to the actors I wanted.  I contacted them and they liked the script and they came aboard.  Everybody in the show joined in because they loved the script and the concept.  Dot Jones even pushed a day off of her Glee shooting schedule to play the part of Miss Lolly. She's a terrific actress and a really nice person so all of that was incredible.  James Kyson is a total pro and I have a great scene with him.  He was great.  Art LeFleur took a very small part because he liked the script and he'll be back as his role grows and grows.  He's another super talented guy and a real professional.  We have big plans for his part.
David Mattia — Dot Jones understood her part from the second she saw the script and James Kyson is a very serious actor who takes great pride in his work and that was great because his personality naturally fits the part he plays. When I wrote the part of "Jake" I didn't have anyone clear in my mind, but James Kyson brought Jake to life. I was amazed.  It sounds self-serving, but sometimes a writer is a great judge of talent.  An example is how Art LeFleur  "gets" me.   He was impressed with a few references I made about things way before my time.  There's a thing where Patty McCormack's character says about a former teen idol.  It's fun writing dialogue for actors you like and who understand the writer.  It makes it so easy.  And we had a super good luck with Greg Bryan.  On the set of our show…wow…he had to be the hardest working actor in history. 
James DiGiacomo – He was really good but we can't say too much without giving a lot away about the storyline, but yeah, Greg really had a lot of hard work to do and we really have a great cast.  And don't forget me.  I play the title role. 
David Mattia –  Of course.  Oh, and we can't leave out Ilia Yordanov.  He plays Joe Jones — James' son — well actually Angelina Jones' son.  He's a talented musician and an actor.  I didn't even meet him until the day he shot his scenes.  He's easy to like and he did a great job.  I think he has a great career ahead of him. 
TDZ — Is this a "gay" show?  I heard someone refer to it as a gay show.
James Di Giacomo — I wouldn't call it a gay show at all.  I would say that it's a show that everybody will like and the fact that I am not a drag queen moves aside the gay issue or any inclination people might have to assume that this is just another gay show.  There's a gay character but I wouldn't call this a gay show – although I can see how people see a man in a dress and automatically assume that it's a gay show.  Dame Edna is not a "gay show."  He or she appeals to everybody.  It's like that pretty much.
David Mattia — I don't see this as a gay show per se and it wasn't written as a gay show but certain elements of it might be especially attractive to the LGBT community simply because it's funny and it's relevant and it's irreverent and the lead female role is played by a guy.   It's a confusing question really because the show has no targeted demographic.  I don't know how marketing people come to the conclusions they come to, but I would think that a 70-year-old grandmother might like it as much as a 19-year-old gay person.  I'm curious to see what the demographics turn out to be, and I won't be surprised if it has mass appeal.
Okay so the show is called "Have you Met Miss Jones" and it premiers on BlipTv on December 12, 2012.
Here is a link to the BlipTv page for the show.  http://blip.tv/MissJones  make sure you watch this — you're going to love it.  I did.
Damien LeGallienne – REPORTING EXCLUSIVELY FOR THE DAMIEN ZONE