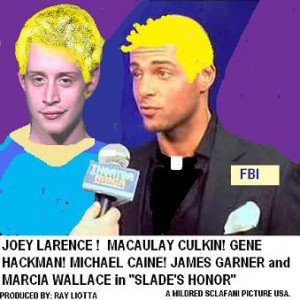 JOEY LAWRENCE and MACAULAY CULKIN — NEW MOVIE Set To Shoot In November.
JERSEY CITY, NEW JERSEY — UPI: Two child stars who are both all grown up now have decided to put their heads together and make a movie with veteran blockbuster producer, Mildred Sclafani — and fans of all three are really enthusiastic.
Word is out that Joey Lawrence and Macaulay Culkin will be starring together in the action- adventure-thriller movie, "SLADE'S HONOR" in which Joey Lawrence will play the title roll of Slade Giuliano, a former FBI man turned Catholic priest who does not know that he lives in a church right next door to the brutal serial killer who is terrifying the entire country.
Macaulay Culkin plays the part of John Peermont, a quiet chemist who works in a pharmaceutical lab and lives a quet life with his mother and father who often seek guidance from Father Slade Giuliano for their various problems.  What they don't know is that their biggest problem is their son — and he's living right under their roof.
Sources say that Joey and Macaulay have been throwing their dialogue around for over a week and the two actors couldn't have become faster friends.
"They're already hanging out in Mac's apartment and playing cards until the wee hours of the morning," said producer/director, Mildred Sclafani who, along with her nephew, Goodfellas star, RayLiotta, brought these two actors together.
"Joey has always been great and last spring I made a movie with him called Seaside Heights Zombie.  The movie is still in post production and should be ready for a Thanksgiving Day opening, which is right around when we start shooting SLADE'S HONOR"
This not the first time Joey Lawrence has played the part of Father Slade Giuliano and it may not be the last.  In Seaside Heights Zombie he played the same character and this new film, while not a sequel per se, is closely related.
According to our sources, Joey enjoys playing the part of Father Slade — as the kids call him — and when Mildred Scalfani and Ray Liotta finally got their hands on the script for SLADE'S HONOR they knew they had a winner.
Oddly enough, even though Joey Lawrence plays the title character, he is listed as a supporting actor.  The lead in the film goes to Macaulay Culkin who seems to be bouncing back really well from recent rumors of ill health and drug addiction.  He must be feeling pretty good because he appears in every scene in the film and that's a lot of work for any actor.  Only a handful of actors have ever done this but "Mac: seems to be up for the job.
"Macaulay is just fine," said Mildred Sclafani from the editing room at Silvercult Studios in Jersey City, New Jersey.  "All those rumors about drug abuse and addiction and anorexia were all lies and craziness.  Mac is the most level-headed person I ever met in show business.  He's got more on the ball than my paison Joey Lawrence, that's for sure.  I never know where to find Joey.  One minute he's at a Dodger's game in Los Angeles and the next minute he's swinging around in Rome and Monaco in a cowboy hat chatting up every pretty girl he can find.  He's a nut but I love him like a son."
Also starring in SLADE'S HONOR, which will be filmed in Yonkers and Pelham, New York, are veterans like Gene Hackman, Michael Caine and James Garner.  Marcia Wallace, the zany gal who used to play Bob Newhart's whacky secretary in the old Bob Newhart Show will play the part of Macaulay Culkin's grandmother and accomplice.
"We are so proud to have Marcia Wallace on board. She'll be celebrating her 70th birthday just as we begin rehearsals at Silvercult Studios.  Marcia is a classically trained actress and she just got back from a one year run on the London stage in the part of Aunt Lavinia Penniman in the Soho Theater production of 'The Heiress' where she won every award you can win in British theater. 
"Queen Elizabeth and Prince Philip attended one evening and afterwards, when they came backstage, the Queen told Marcia that had she been born in Great Britain, she would have been made a Dame of the British Empire.  Marcia just blushed and said that she didn't know how she would react if people started calling her Dame Marcia, but she was very flattered.  It was very exciting and the British people welcomed Marcia with open arms.  When Marcia gave a book signing of her newbook, "I Used To Play Bob Newhart's Secretary," over ten thousand fans showed up but Marcia stayed until 4am to sign every book."
Tongues are wagging about SLADE'S HONOR and rumors are that the shooting schedule will be very rapid owing to the advanced ages of many of the stars.  James Garner is well into his 80s and so is Gene Hackman — and Michael Caine is only a year away from that milestone.
"I am so proud to be directing and producing this movie with Joey Lawrence and Macaulay Culkin," beamed Mildred Sclafani.  "This is a dream come true.  Think about it, two great child actors who have grown up to be great adult actors, and then to have Michael Caine, Gene Hackman and James Garner too.  Getting Matcia Wallace was the icing on the cake.  It doesn't get any better than this."
Supposedly the script calls for Joey to dye his hair and his scalp blond because he is supposed to look like Macaulay Culkin in some scenes, but most of that is all hush-hush.  The script is adapted from a Gore Vidal play, "The Chemical Neighbor" which was only shown once in a Vermont theater back in 1955.
"I think Gore Vidal would be proud of what we've done.  He would have loved Joey Lawrence and Macaulay Culkin.  I am so proud of everyone," said Scalfani as she set off on another adventure to shoot additional footage for her 8-hour epic documentary about Bigfoot sightings throughout North America.
"My bigfoot movie is a major scientific work and I take it slow.  I look at the next three weeks in Manitoba as a working vacation because unless I get eaten by a Sasquatch, I'll be back just in time to start production on SLADE'S HONOR.