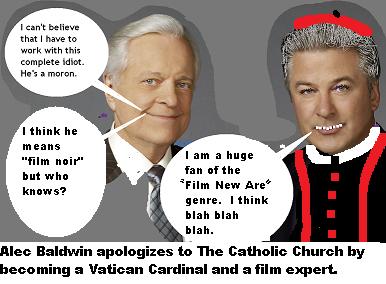 Rumors are flying around Hollywood that Alec Baldwin, the world's most obnoxious WORDS WITH FRIENDS player, will not be asked to return to Turner Classic Movies (TCM) where he sometimes co-hosts with Robert Osborne, a segment called "The Essentials."
His recent antics on an American airlines plane and the subsequent evidence that Baldwin's account of what transpired on that plane was less than truthful supposedly has TCM executives up in arms.
"He was never really good for the program and if he gets fired, it won't be a moment too soon," said a source close to the station.
"Robert Osborne was never impressed with Alec Bladwin and probably wishes he were gone.  Osborne has never expressed that opinion, but I think it's safe to assume that Bob would be happier if he had a more intelligent and less self-absorbed co-host for The Essentials."
It's true that Alec Baldwin does not deserve to share his opinions on films with someone like Robert Osborne, and the powers that be over at TCM can't be happy with this new and unpleasant notoriety.   Baldwin always seems to making a fool out of himself in one way or another and this might be the straw that breaks the camel's back.
Will Alec Baldwin get fired from TCM?  Well — he probably did violate something in his contract if you look at it with a microscope, but people in the know say that he will not be asked back after the segments he has already taped are aired.