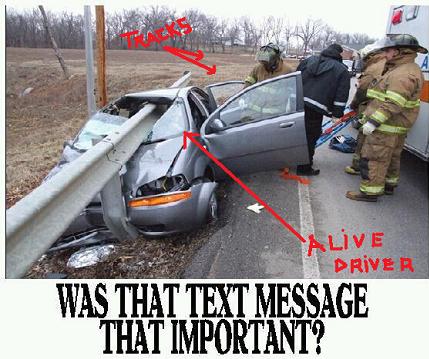 There is a photo going around on Facebook that shows a car with a guard-rail going through the windshield and out through the rear window.  The captions reads:  "Was The Text Message THAT Important?"
The picture is a hoax and the driver in the crash was not texting at the time of the accident — he fell asleep and left the road at a high rate of speed. 
If you look at the photo you can see in the dirt field where his tire tracks swerve back towards the road but it was too late and the car was impaled on the guard-rail.
The driver was unable to get on the road — he missed being decapitated by inches — but he was NOT texting.
I realize that any car wreck can be used as a lesson in careful driving, but if you're going to try to get Facebook shares on your lame-brain photos — at least have some integrity and, without being too graphic, use a photo of a car that was actually wrecked because the driver was actually texting.
I hate when Facebook people do that — anything for attention.
By the way — the driver was not killed but  suffered serious injuries to his shoulder and arm. Ya think?