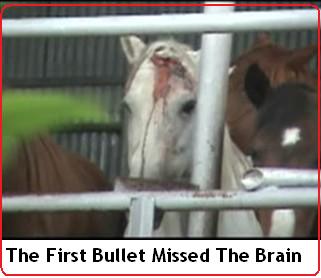 Both New Jersey Senators — one a walking corpse Democrat (Lautenberg) and the other, a complete idiot Democrat (Menendez) — voted to restore funding to slaughter horses for meat in the USA — of course the people in the racing industry didn't even know this was happening but now they stomp their feet in anger because they love horses.  They don't love 'em enough to pay attention to what's going on in Washington DC that's for sure.
Both Democrats in New York — dimwit Gillibrand and one-row-hair-transplant – smug son-of-a-bitch Chuck Schumer voted YES to horse slaughter too.  Democrats like to kill babies and horses — pretty soon they'll be legalizing consumption of aborted babies.  
Harness racing (trotters) is the rapidly fading mainstay of horse racing in the Garden State, but the folks who represent the horse in New Jersey were too stupid to see this bill getting quietly pushed through both houses and onto Obama's desk.  Yonkers Raceway in New York is making a fortune since they got slot machines in their racetrack, but they don't care what happens to the horses after they are done racing.  Maybe Yonkers will have a horse prime rib buffet for $7.99.  Don't be surprised if that happens.
The United States Trotting Association (USTA), the governing body for harness racing in the USA did nothing to lobby against this horrible bill because they are an inept bunch of morons — they never DO anything — they're even too stupid to know that this bill even existed.   They were probably at some luncheon — that's all they're good for. 
The USTA registers and keeps records of thousands of trotting horses every day, but when a horse goes to a kill pen, they close their eyes.  It's all about making money off the sweat and pain of horses.  
How did your Senator vote?   Have a look here.
YEAs —69
Akaka (D-HI)
Alexander (R-TN)
Baucus (D-MT)
Begich (D-AK)
Bennet (D-CO)
Bingaman (D-NM)
Blumenthal (D-CT)
Blunt (R-MO)
Boxer (D-CA)
Brown (D-OH)
Brown (R-MA)
Cantwell (D-WA)
Cardin (D-MD)
Carper (D-DE)
Casey (D-PA)
Cochran (R-MS)
Collins (R-ME)
Conrad (D-ND)
Coons (D-DE)
Durbin (D-IL)
Feinstein (D-CA)
Franken (D-MN)
Gillibrand (D-NY)
Graham (R-SC)
Hagan (D-NC)
Harkin (D-IA)
Hoeven (R-ND)
Hutchison (R-TX)
Inouye (D-HI)
Johanns (R-NE)
Johnson (D-SD)
Kerry (D-MA)
Kirk (R-IL)
Klobuchar (D-MN)
Kohl (D-WI)
Landrieu (D-LA)
Lautenberg (D-NJ)
Leahy (D-VT)
Levin (D-MI)
Lieberman (ID-CT)
Manchin (D-WV)
McCaskill (D-MO)
Menendez (D-NJ)
Merkley (D-OR)
Mikulski (D-MD)
Moran (R-KS)
Murkowski (R-AK)
Murray (D-WA)
Nelson (D-FL)
Nelson (D-NE)
Pryor (D-AR)
Reed (D-RI)
Reid (D-NV)
Roberts (R-KS)
Rockefeller (D-WV)
Sanders (I-VT)
Schumer (D-NY)
Shaheen (D-NH)
Shelby (R-AL)
Snowe (R-ME)
Stabenow (D-MI)
Tester (D-MT)
Udall (D-CO)
Udall (D-NM)
Warner (D-VA)
Webb (D-VA)
Whitehouse (D-RI)
Wicker (R-MS)
Wyden (D-OR)
NAYs —30
Ayotte (R-NH)
Barrasso (R-WY)
Boozman (R-AR)
Burr (R-NC)
Chambliss (R-GA)
Coats (R-IN)
Coburn (R-OK)
Corker (R-TN)
Cornyn (R-TX)
Crapo (R-ID)
DeMint (R-SC)
Enzi (R-WY)
Grassley (R-IA)
Hatch (R-UT)
Heller (R-NV)
Inhofe (R-OK)
Isakson (R-GA)
Johnson (R-WI)
Kyl (R-AZ)
Lee (R-UT)
Lugar (R-IN)
McConnell (R-KY)
Paul (R-KY)
Portman (R-OH)
Risch (R-ID)
Rubio (R-FL)
Sessions (R-AL)
Thune (R-SD)
Toomey (R-PA)
Vitter (R-LA)
Not Voting – 1
McCain (R-AZ)