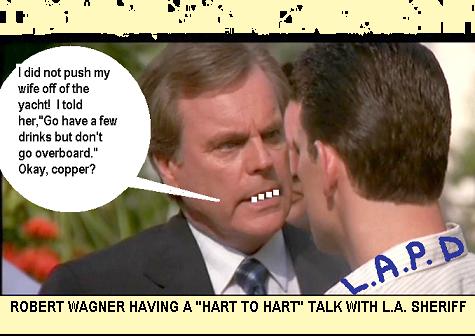 Veteran actor Robert Wagner might have to have a "Hart to Hart" talk with law enforcement, and if  some "new evidence" is true, Wagner might be taking out a reverse mortgage on a jail cell.
Dennis Davern, skipper of the Splendour, the yacht from which Natalie Wood fell into the Pacific ocean and drowned thirty years ago, told NBC's "Today" show on Friday that he made mistakes by not telling the truth about events leading to the death and had urged Los Angeles County sheriff's homicide investigators to reopen the case.
Of course Davern is publishing a book about Natalie Wood and what better way to get millions of dollars worth of publicity than to implicate her then husband or perhaps even actor Christopher Walken who also was present on the yacht the night Wood drowned,
Is Rober Wagner a killer?  We might never know — but we don't think so.  We thing that he had something to do with Wood's death in that he went to bed despite the fact that the two had been fighting and she was drunk — and so was he.
According to the coroner at the time of Wood's autopsy, her death was accidental.  She fell from the boat while trying to get into the boat's dinghy in the dark.  She hit her face on the way down and the weight of the water that soaked her down jacket made it impossible for her to climb aboard the dinghy.  Bruises on her body offer evidence that Wood, in an adrenaline fueled panic, fought to climb into the dinghy in very cold waters.