Recently, Facebook founder Mark Zuckerberg stated that he would no longer eat any meat unless he killed the animal himself.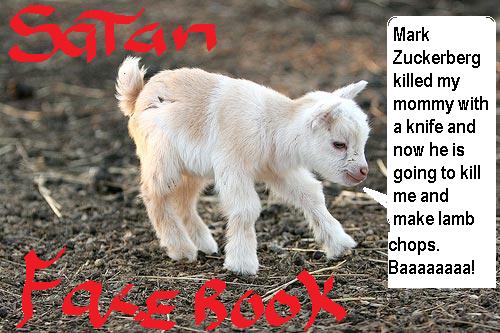 So now, the stiff no-personality and socially awkward new face of Satan hasdone got himself a huntin' license — YEE-HAW– and it seems that he recently brought down a bison. 
During last week's F8 (pronounced "fate"), which is Facebook's annual summit, Zuckerberg showed off his Facebook page with an update about cooking bison burgers. That got people thinking: 'Did the Facebook mogul actually hunt and kill a bison?" Apparently yes.
In the past he used a knife to kill animals like a goat, a chicken, and a pig. But that's not how he would take down a bison (which can weigh up to 2 tons). Zuckerberg recently obtained his hunting license and Fortune.com reports that he used it to shoot down a bison. 
I always knew that he had the vacant eyes of a killer.  Maybe he would have killed the Winklevoss brothers and anybody else who stood in his way if he didn't get everything he wanted.
Did you catch that?  He used a KNIFE to kill a goat, a chicken and a pig?  What is he, a Taliban?  Maybe it's the primitive street-meat mentality of his southeast asian companion — those people will kill and eat anything.  Perhpas he will set up shop and start a bush meat shoppe.  Maybe he'll create a new strain of AIDS.  Wouldn't that be exciting — it would be so Satan-esque.
All the more reason why people should stop using Facebook — bt it's too late — he already has his billions — I mean it when I say that this guy is Satan — the arrogance of everything he's done to be where he is — the hands of gold success — the disregard for others — the vacant eyes — the panic breakdown when he had to take off his hoodie — and now the lust for the hunt.  Yes, he is Satan.