Joey Lawrence, fresh off a new set of hair transplants, is ready to join the cast of "Jersey Shore" for a three week guest stay at the infamous beach house in Seaside Heights, NJ.   Joey will drive down from NYC with The Situation and Pauly D after he gets a light coat of long-lasting scalp darkener at his dermatologist's office.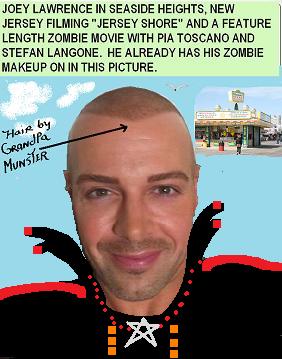 "Joey is Italian and has always expressed an interest in being part of Jersey Shore," said Mildred Sclafani, a famous Bigfoot authority who also runs a chain of arcades on the Seaside Heights Boardwalk.
"I met Joey when he was researching my story and wanted to make a horror movie based on Bigfoot sightings in the New York and New Jersey area and also the Jersey Devil which is said to live very close to the Seaside area, although that is outside my field of expertise.
"He's a nice kid and he fits in well with the Guido crowd.  He shaves his chest and he pumps iron — and he's Italian.  He likes my meatballs and gravy and he had a second helping when he had dinner at my summer home in Lavalette which is only a mile or so from here.  So he decided to go and catch the filming of Jersey Shore so we took a walk over to the Jersey Shore house and the cast was really glad to meet Joey. They instantly signed a contract and Joey started filming in less than a day."
TheDamienZone heard from the rumor mill that Joey's transplants are growing in great and he recently appeared on a radio show to dimiss the hair transplant rumors — but he wore a hat that made him look like Peter Lorre in a jungle movie so we could not see the great new hair and the dark brown scalp paint.   The radio station ( for real) sent TheDamienZone an email denying Joey's transplants and botox — but they forget about the Restolin treatments for his clown mouth lines.   The radio station also sent TheDamienZone a comment that contained a nasty virus — now was that nice, Joey?
So anyway, Joey is rumored to be puffing up his hair — frosting the tips of his newly sprouted foliage — and getting a set of light blue contacts.  Luckily his eyebrows are already plucked to Guido perfection, his tan is almost dark enough, and his chest is spotlessly waxed — unless you look up close and see the waxing bumps.
The Situation is excited that he will no longer be the oldest player in the Jersey Shore cast  because Joey Lawrence is now 40 and The Situation is only 37 — although it is rumored that he is actually 51.   A fat woman claiming to be the long lost Canadian wife of The Situation showed up at Ocean County Family Services with her daughter and a grandchild aged about 2.  So nobody really knows who is the oldest. 
The first episode with Joey Lawrence will air towards the end of the season.  In that episode, which is still being edited, Joey goes with Mike "The Situation"  to a dermatologist and holds Mike's hand while he gets the huge mole removed from his cheek.  The operation fails, but while they are there Joey decides to get a few quick plugs of hair put in his right temple where a few had been pecked out by a seagull on the first day of filming.
According to sources, Joey plans on staying on in Seaside to work in a Zombie thriller movie with Pia Toscano and Stefan Langone.  The feature length film, "Seaside Heights Zombies" which will also star Jimmy Smits and Kevin Bacon, is going to be a Christmas box office blockbuster.  A part was written for Joey after they found an opening in his schedule.  Joey will play an aging, down on his luck singer who tries to help Pia Toscano with her singing so that she can better defend herself against the zombies.  The movies is already in production and parts of Seaside Heights have been shut down for filming.
You can read about that movie here.  http://thedamienzone.com/2011/04/15/pia-toscano-and-stefano-langone-in-new-jersey-shore-movie/
So reliable sources say that Joey Lawrence is going to be on Jersey Shore and he's already hanging out at the Surf Club in Seaside and trying to get in the groove for the third episode — he's already in the can for two of them.