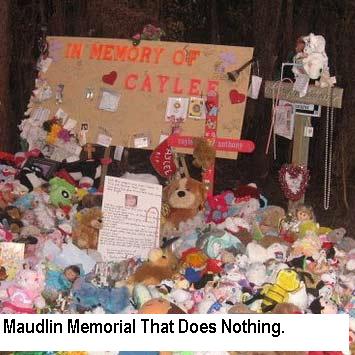 Following Anthony's high profile prison release early this morning, a group of Orlando weirdoes organized a "Maudlin Assholes Walk for Caylee," in memory of the 2-year-old child whose remains were found in the swampy woods just off Suburban Drive in 2008.
The memorial walk was held to remember a little girl whose life was cut short by unknown reasons.  In other words, they are looking for an excuse to be maudlin because the kid was murdered by her mother who got away with it.
The walk held the theme "Seeking justice from a Higher Power" and began at 2 p.m., wrapping up around 4 p.m.  The higher poer isn't going to do anything — the higher power was the court and they could not convict her.
The walk started at Caylee's memorial and went around the Chickasaw Oaks neighborhood. Organizers started the walk on Facebook in the hopes of getting the community to focus on Caylee, and not her mother.  In reality, they hope that one loon in their midst goes nutty and tries to get Casey Anthony.
The event, described on Facebook, was started by a man named Ben Laney ( crazy person who uses Jesus to cover his craziness) who invited people to the Chickasaw Oaks subdivision near Suburban Drive in Orlando.
For many who participated in the walk, it was a time for closure, but according to modern psychology and psychiatry, there is no such thing as "closure."  It's a word that was made up by people like Oprah and Dr. Phil.  Caylee will always be dead and there is no reason to make up words to cover up that fact.
"I came today to say my goodbyes and to be a part of this," Karen Gilreath, an area resident, told reporters, "to let little Caylee know that we love her and miss her and someday justice will be done."  I'm sure that Karen Gilreath's maudlin sentiment would be better served at a PTA bake sale because she sounds like a simpleton.
A steady stream of spectators have stopped by the wooded area today that has slowly turned into a makeshift memorial site for Caylee Anthony with teddy bears, balloons, candles and signs.  The memorial is dumb.  These roadside things are usually constructed by people with limited mental skills and reasoning.
The memorial site continues to grow, despite the fact that the rain has flooded out the area. Community residents are looking for a more permanent, drier spot, according to messages on Facebook.  In other words, the flowers in cheap plastic wrapping are getting muddy and the cheap handmade cardboard posters look like shit.
The small section of woods is near the Anthony family home. For many who visit the site, it's a day of painful memories.  The only person who had any pain was Caylee and the family of that monster, Casey Anthony.
Messages on the "Peace Walk for Caylee" Facebook page have been posted throughout the day.  It might be the corniest and most maudlin Facebook page ever made — thank god they didn't have Facebook when Princess Diana bit the dust.  Even cornier people — more retarded people — are putting up those Facebook status updates — you know the one about, "If you don't pay your electricity for 31 days they shut it off."  How sickening.  Besides, you gotta go a lot longer than 31 days before they turn off your juice.  This is like the kind of shit you read on The Mom Report — blech.
"I want to come but don't have a way there form Lakeland but will be setting off purple ballons and candles at about 7pm today/wish I new someone from Lakeland that could ride with but RIP Caylee. You are so loved – she has a birthday coming soon," one person posted.  Everyone has a borthday coming soon — how fucking stupid and childish are these people?   It boggles the mind.
Meanwhile, there has been a heavy presence of law enforcement, with at least a dozen deputies patrolling the area wasting tax dollars.
When the crowd returned to the site after the peace walk today, the organizer reminded participants where Caylee Anthony is now.
"I want you to know this is not the site where Caylee's remains are; this is where she lives on, her memory," said Laney.
Casey Anthony was freed from the Florida jail about 12:09 a.m. on Sunday morning just 12 days after she was acquitted of murder in the death of her daughter.
There were no video visitations with Anthony's family scheduled on her last day in jail. She hasn't taken any since 2008.
Her final meal at the jail consisted of turkey rice casserole, bread, green beans, cake and milk.  Who gives a shit?
Anthony, wearing a pink T-shirt with blue jeans, left the jail with her attorney, Jose Baez.
She was given $537.68 in cash from her jail account and escorted outside by two sheriff's deputies armed with semi-automatic rifles.
Neither Anthony or Baez said anything to reporters as they hurried to the dark SUV outside the front door of the jail.
Only three journalists were allowed to be inside the Orange County Jail as Anthony took her first steps as a free woman.
"I couldn't believe it was actually happening. It was a closing to a three-year story," Red Huber, a still photographer for the Orlando Sentinel, told reporters.
"I thought maybe she would have shown more emotion going out but her and Jose were very focused, very much on a mission to get out."
The entire jail exit early this morning lasted just 15 seconds before she walked out the door and into a waiting SUV.
Anthony was headed to parts unknown as a frenzy of news crews tried to follow the dark SUV and other decoy cars set up to confuse the public about where she will spend the next chapter of her life.
"It is time for all of us to move on and put this nightmare behind us," said Carole Strong, a resident in Mobile, Ala. who has been following the case since the beginning.
"A little girl is gone and a family has been torn apart. I am going to pray for Casey Anthony and her family because that is what we should all do as Christians. Caylee is with our Father in Heaven as all the children whose lives were taken from us too soon."  <—Does this make you want to puke?  It sure makes me wanna puke!