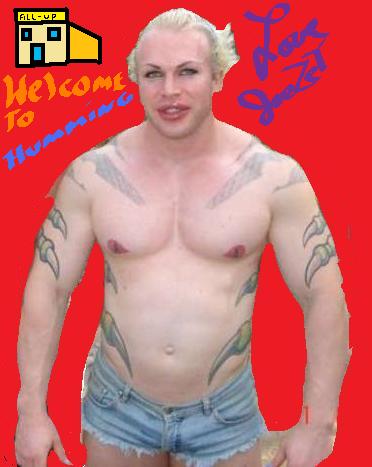 "Bodybuilding drag queens are people too and we like to think that our Joe Zet Day is an inspiration to all of the poor white youth of America.
Mayor Haggard Kellogg – Humming, Alabama.
He might look a little unusual but gender-bending, bodybuilding, semi-drag queen blond bombshell,  Joe Zet Day is turning heads at the gym in his local town of Humming, Alabama.  He's worked out his body and his ink and his makeup to the point where now his hometown of mostly poor white people look upon him as a local hero.
"I always wanted to be a girl with muscles," said Joe Zet from his trailer in Hummings-on-Hemming where he lives with his mom, Joleen Cummings-Day and his four cats, Mitzi, Gaynor, Sheree and North.
"I used to put on nail polish at first when I was a teenager and while I was witing for it to dry I decided to pump iron to pass the time.
"You would be surprised the amount of working out you can do just by waiting for normal things to happen in your life.   Like, when I have to evacuate (move his bowels)  in the morning — while I am waiting for that last piece of feces (shit) to fall, I do squats over the bowl and over the course of three year I have developed a lot of butt and thigh muscles. 
"It also helps to push out the feces (plural for shits)  and I can say that I do not carry around any impacted fecal matter like they say in the colon vitamin commercials.   I  always try to stay masculine and feminine-fresh with a Fleet enema and heavy weight squats over the bowl."
Joe Zet's mom Joleen is proud of her drag queen bodybuilder son and she likes when people drive slowly past their two bedroom single trailer.
"We're like celebrities in our town and for miles all around.  When I go get cigarettes (Virginia Slims) at the local Piggly Wiggly — where I sometimes buy food  too — people are always asking me about Joe Zet.  The girls down at the beauty parlor are so nice to him that he gets his hair bleached for free and that blond hair really makes him look beautiful.    I can always tell when he needs a bleaching cause when he warshes his hair and it's still wet, I can see the roots.  Don't y'all get me wrong, he is just as beautiful as a brunette, but the blond really brings out the eye makeup that he really knows how to use.  He looks like a movie star."
Joe Zet is the hero of his town and the local tattoo parlor is still working on perfecting the ink that will transform Joe Zet ino a masterpiece of gender-bending muscle. 
"His nipples were a challenge," said tattoo artist Pop Toton who has works hanging in The Louvre and The New York Metropolitan Museum of Art. 
"I wanted the nipples to look like nipples yet I wanted to make a statement that said, 'We are sad nipples but we soldier on' and that's why I drew them to look like sideways teardrops.  I get emotional whenever I see them and I'm an artist — we're supposed to be objective.  The question really should be, why am I working in a tattoo parlor in the middle of nowhere?  I think I need a more cosmopolitan venue."
Joe Zet is worried about getting too big and he worries that soon he will not fit into his Daisy Duke shorts, but he has learned to tuck his testicles up and under his groin with duct tape — kinda like Casey Anthony — and he thinks he can pack on a lot more muscle and still squeeze into his tight little denims shorts. 
"I hope that I am an inspiration to all small town bodybuilder drag queens throughout the world," said Joe Zet as he applied layer upon layer of eyeliner in the kitchen of his mobil home. 
 "You young drag queen body builders out there  might feel out of place at first but then you start to see how many women's husbands and boyfriends start to talk to you real sweet.  I don't even have to pay for gas at the fill-up station and if I get to the Night-Watch convenience store late enough, the guy who works there don't even charge me and we make out until his wife gets off from her late shift at the Truckstop Of America in Brawley.
"My plan is to move close to the big city and have a house in the suburbs where I can relax and maybe have a bisexual affair with a cop.  I like cops.  Right now my mom and me are looking at some property in a town in New Jersey called Long Valley.  It's only an hour outside of New York and I will get the peace and quiet I need but still be close to the bright lights of Broadway where I hope to start my one man/woman show that I wrote.  It's called, "Doing Squats Over The Toilet and Putting On Mascara" — it's a musical."
Good Luck Joe Zet Day!