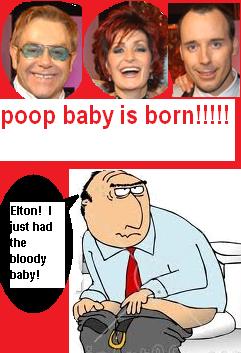 Elton John and David Furnish have had a baby boy.  Currently there are no photos  available because the baby is still covered with poop.
"We are not sure which of the two men gave birth to the new baby," said a source close to the Elton John camp.  "The baby was so covered in poop that it will take the nurses at least two days to clean up the little thing.   There was poop under the baby's fingernails because evidently the little rocket man tried to climb his way out."
TheDamienZone.com will have the pictures as soon as they are available.  
In the photo above, Elton and David comfort Saron Osbourne who has already given birth to two ugly and untalented children.