NEW YORK'S FIRST GAY DIVORCE !!!!!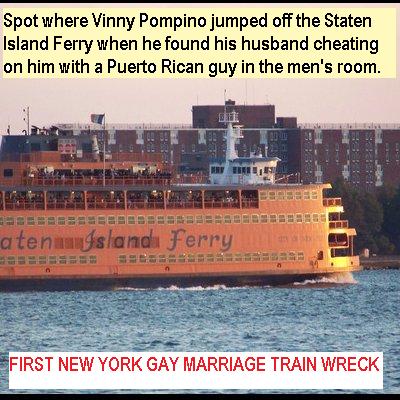 The law allowing gay marriage in New York is only hours old but Staten Island, New York Macy's employee, Brian Keegan,31, has already become the first gay husband to cheat on his husband. 
Moments after the State Senate voted to allow same-sex marriage, Brian Keegan married Vinny Pompino, 27, a waiter at Garrallolo's Ristoranti in Tottenville and his boyfriend of three years.  They got married in a quick ceremony at St. John The Divine church in Manhattan and then took the Staten Island Ferry for a midnight honeymoon cruise back to Staten Island.   That cruise turned into a heartbreaking night for the hand-wringing Vinny Pompino, his gold cross and horn still dripping with water from his near death swim in the murky waters of New York harbor.
"He told me he had to go to the bathroom," whimpered Pompino as he dried his tears on the wharf. 
 "I sat there and I was like waiting for so frigging long and I was worried that he was sick or something, you know?  My mother made linguine with clams that night for us and I thought maybe the clams were a little rotten, but I didn't want to say anything in front of my mother.  I mean, she goes ballistic when you say anything bad about her food — she's crazy like that.  I know I'm all wet but can you still smell my Aqua di Gio?  I love that cologne.
"So I went to the ferry bathroom and Brian was in the stall having sex with another guy.  A Puerto Rican guy.  I thought I was going to die on the spot.  A Puerto Rican of all things?  I screamed at him and then the Captain came into the bathroom and unzipped his pants and Brian started having sex with him too.  I couldn't take it.  I jumped overboard to die but the current carried me to Staten Island only a block from my apartment — the apartment we were going to share for the rest of our lives.   Now I have to file for divorce.  We were the first gay couple to get married in NY and now we will be the first to get a divorce.  Jesus Christ, what did I do to deserve this goddam shit?"
Police on the Ferry have confirmed Pompino's story and Keegan was arrested for public lewdness.  The ferry captain, John O'Kreginny, "another no good Irish son of a bitch,"  was reprimanded and then sent to operate the Fire Island ferry pending an investigation.
Pompino is already in talks this morning with Reality TV executives who want to make a show about his life as New York's first divorced gay husband.
"I have a story to tell and I'm gonna tell it for chrissakes." said Pompino.  "Nobody leaves me for a Puerto Rican on my wedding night — and in the bathroom of the Staten Island Ferry of all place.  Can you imagine the balls of Brain — that Irish bastard!"
Pompino's mother, Gloria Viccidomini-Pompino, 57, was very angry and she threatened her soon to be ex son-in-law.
"I told my son Vinny not to marry that no good Irish piece of shit," said Viccidomini-Pompino as she lit her Virgina Slim menthol cigarette. 
"He thinks his shit don't stink, that fuckin son of a bitch bastard.  Nobody hurts my kid and gets away with it.  If my husband wasn't in jail for extortion and loansharking, he would wring that no good Irish bastard's neck and they'd find him floating in the East River. 
"I don't want him back in my son's apartment.  Tell him for me to go back to his mother's house and clean the stove and the floor and the filthy bathroom because they could use it.  I schkeeve those frigging Irish people and I'll kick his ass if I see him anywhere near my kid.  My son is sensitive.  He quit beauty school because he burned some lady's head with perm solution and he had to see a therapist for two years about that.  He's a poet too."