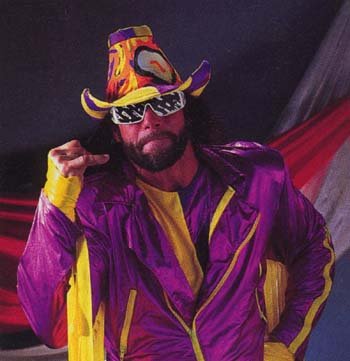 "Macho Man" Randy Savage, a professional wrestler who became a fan favorite thanks to his outlandish outfits and trademark catchphrase, died today according to metro police.
The 58-year-old Savage reportedly suffered a heart attack while driving his 2009 Jeep Wrangler in Tampa, Fla., and careened across lanes of oncoming traffic before colliding head-on with a tree. He died later at a local hospital.
Savage's wife Lynn, who was riding in the passenger seat, escaped with only minor injuries. Both passengers were wearing seatbelts and the police do not believe alcohol was a factor.
The World Wrestling Federation favorite from Ohio burst onto the scene in 1985 and quickly drew attention with his flamboyant outfits and "ooh yeah!" catchphrase. His marriage to Elizabeth Hulette, Ms. Elizabeth to fans, was one of the first high-profile wrestler/valet relationships. They divorced in 1992. Savage remarried last year.
He won two WWF championships in his career. His match against Ricky Steamboat in 1987's Wrestlemania III is considered one of the best WWF bouts ever. Savage won the title late that year, setting the stage for memorable battles with Hulk Hogan, who would eventually dethrone him as champion.
Savage also appeared in memorable ads for Slim Jim and played a wrestler in the 2002 hit film "Spider-Man."