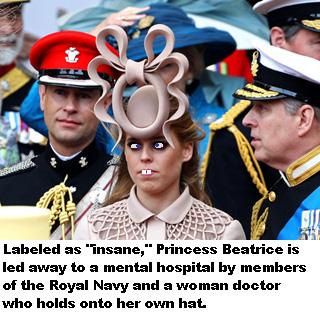 The schizophrenic  hat worn by Princess Beatrice at Britain's royal wedding is to be auctioned to raise money for the mentally ill — especially the Princess who wore it, Buckingham Palace said Thursday.
The famous creation — which some said looked like antlers but was later diagnosed as a severe mental illness which landed Princess Beatrice in the lunatic asylum, will be sold on eBay with the proceeds to go to further mental helath care for Princess Beatrice and additional platic surgeries for both Beatrice who looks like a chipmunk that ate the Osmond family, and to Kate Middleton who looks like the ventriloquist dummy in the Anthony Hopkins movie "Magic".  See here: http://thedamienzone.com/?p=4127
The hat was the handiwork of Britain's leading milliner, Philip Treacy who is also a psychological counselor at the lunatic asylum where Princess Beatrice has been held under lock and key since the wedding.  Treacy designed many of the ladies' hats worn at the April 29 nuptials of Prince William and Kate Middleton, now known as the Duke and Duchess of Cambridge, and he also helps patients at the asylum to make macaroni clocks and colored paper chains to be used as garland at Christmas.
The unusual design of the beige hat has sparked a Facebook fan page called "Princess Beatrice's ridiculous Royal Wedding hat," and one computer-altered picture showed President Barack Obama and his national security team all wearing the hat as they watched the commando raid on Osama bin Laden's compound in Pakistan.   The truth however is that none of this is fiction.  Barack Obama and his men did indeed wear this hat and TheDamienZone had an actual picture of Princess Beatrice being escorted to the mental hospital just prior to US special forces taking control of the hat.   Shown here:  http://thedamienzone.com/?p=4135
The sale was announced by Beatrice's mother, Sarah Ferguson, on "The Oprah Winfrey Show." A palace spokesman confirmed the sale while speaking on condition of anonymity in line with policy.  Sarah Ferguson is very white trash (British style) and she will go on any show to sell anything.  She's a mess and her daughter is in a nuthouse because of a hat. 
Many have said the hat looked outlandish, but Treacy has defended it in comments to the British press, saying Beatrice looked "gorgeous" at the wedding but she looks even more gorgeous wrapped in a straight-jacket in the nuthouse where she belongs."
Beatrice, 22, also defended it in a recent interview with Grazia magazine. She said it was "wonderful that it's had such a reaction."
She added: "It's an incredible response to a hat, really. I'm glad it provoked so much conversation."  Then little Beatrice was led away by a Zambian nurse who gave her a cup full of medication which she washed down with the English accent version of Sunny-Dee.