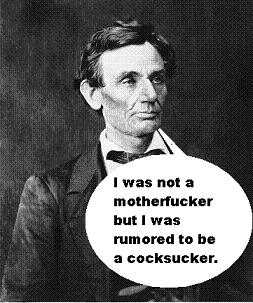 Everybody is up in arms because Donald Trump used the word "motherfucker" in spite of the fact that he considers himself to be a serious candidate for President of these motherfucking United States.   It really isn't such a big deal because a lot of motherfuckers have run for President — and some have won.
George Washington was a motherfucker because he thought he was the hottest thing going.   In his day, people were not allowed to touch him — now that's a motherfucker.   A lot of our founding fathers were motherfuckers and that's probably why they were such effective leaders. 
The whole motherfucker thing in the American Presidency started back when the British ruled the colonies.  The British were the ultimate motherfuckers of all time.  They're nice people now and all, but back in the day, they were motherfuckers of the highest order.  As a matter of fact, it's kind of funny to see British royalty go back to pay nicey-nice visits to the countries where they used to beat the shit out of people and steal their land and resources.  Of course the word motherfucker did not exist back when the Brits were subjugating the indigenous peoples of Africa, India and countless other places, but there was probably another word.  The irony is that the Africans they enslaved and brought to the colonies invented the word — so it had to be a word that was invented by Africans to describe the British.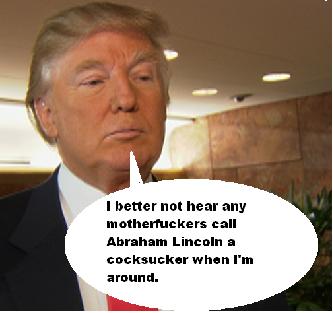 Anyway, getting back to Trump.  A lot of people think that he is a motherfucker because his numerous bankruptcies have screwed a lot of innocent motherfuckers out of money.  TheDamienZone thinks that Trump has abused the motherfucking bankruptcy laws, but what do we know?  We're just a motherfucking website.
Abraham Lincoln was not a motherfucker.  He was a cocksucker — (so was President James Buchanan) or at least that's what people say — and a cocksucker is a few notches below a motherfucker unless you take the words in their literal sense. 
Literally, a  motherfucker is someone who has sex with their mother — ergo — a real low-life.  A cocksucker, however,  is somebody who performs fellatio on a man.   That's not so bad because there are a lot of nice cocksuckers in the world and many of them perform a great service.   
Since the dawn of time there were periods of  peace in the world  because some cocksucker like Monica Lewinsky or J. Edgar Hoover sucked somebody's penis (cock) and cooled their hot temper.  This only lasted of course until some motherfucker came along and started trouble — somebody like Napoleon.  He was a a major motherfucker.  He was an evil motherfucker.   Hitler was absolutely a motherfucker and he may have been a cocksucker too — there are rumors.
There have been so many motherfuckers in charge of stuff over the years so this Donald Trump thing isn't really so bad.
By now all you motherfuckers should be used to hearing the word MOTHERFUCKER.   Get used to it because I predict a great debate where Donald Trump and Sarah Palin and Mitt Romney all start calling each other motherfuckers.    This is the dawning of the age of the motherfucker in politics.  Ofcourse they have always been there, we just weren't allowed to use the word.