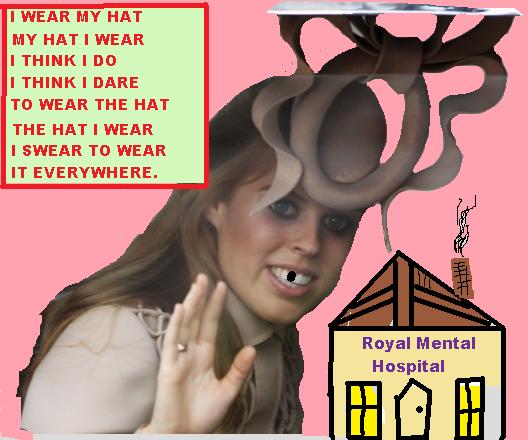 "We had to haul them off as soon as the Royal Wedding festivities moved from the streets,"  said Lord Freddie Young-Pith about  Princess Beatrice and the hat she wore to the wedding ceremony at Westminster Abbey.
"Poor Beatrice has lost her mind, and in her mind she can't face the fact that she is 10th in line for the throne.  She thinks she can do whatever she wants and in this case she raided the stage warehouse of movie director Tim Burton and stole some props from the movie 'The Grinch Who Stole Christmas.'
Burton was not available for comment but a spokesman for Burton Enterprises said that he was watching the Royal Wedding and he recognised the hat Beatrice wore as one that was reported missing from the warehouse several weeks ago. 
Police opted not to arrest Princess Beatrice opting instead to have her put into a mental hospital.
Princess Beatrice is the daughter of Prince Andrew and Sarah "Fergie" Ferguson, and it has been known for the past few years that she is trying to demean the great fashion sense of the Royals by wearing things that would eventually land her either in jail or the nuthouse.  Sources say that she wants to be Queen so bad that she has lost control over her urges.  Last summer she tried to kill all the people who are ahead of her in line for the throne.
"At a family get-together last summer, the Royals were  playing water-polo in a lake at Balmoral Castle," said Lord Freddie Young-Pith. 
"Beatrice noticed that all of the polo players were relatives who were ahead of her in line for the throne.   She plugged a golf cart into a 220 volt outlet and pushed it into the lake.  Luckily the cart shorted out instantly and nobody was injured but Beatrice had to be taken away kicking and screaming.  The Queen (her grandmother) threatened her with the mental hospital but Beatrice was defiant and urinated on the Queen's priceless Hans Holbein painting.  Experts at The Louvre are still trying to repair the damage because her piss was highly acidic."
TheDamienZone can see that Princess Beatrice has crazy eyes and horse teeth and for this reason she should be made the Queen of something — perhaps Zimbabwe or something.