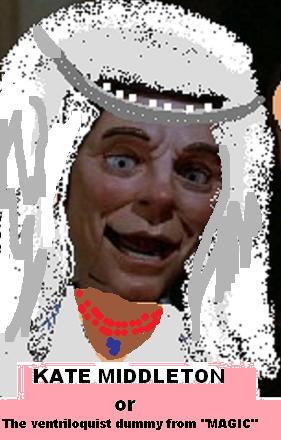 Her gown was gorgeous and the ceremony was fabulously boring but grand.  When Kate Middleton walked down the aisle at Westminster Abbey to become Mrs. Prince Bald Horse Teeth, nothing could have been more fatasmagorical. Perhaps that is why, after seeing Kate Middleton up close on their plasma TVs all over the world. people are starting to realize that Kate Middleton looks like the ventriloquists dummy in the Anthony Hopkins film "Magic."
"Her resemblence to the dummy in Sir Anthony's horror movie was ghastly.  I nearly fainted dead away," said Lady Chesterton-Bonnager from a room at the back of the Abbey where all the commoners smoked cigs and fags.
"I saw her coming down the aisle with her severe facial lines and dark hair and all I could think of was that dreadful movie.  I think that perhaps Prince William has married a movie prop and I certainly hope that this monster of a bride doesn't come alive and start talking or telling William tokill people or anything because that's what the dummy did in the movie."
TheDamienZone took a closer look at Middleton and the movie Magic and we were shocked.  Kate Middleton and the dummy that terroroized poor Anthony Hopkins are one and the same.
"Ventriloquist dummies often come to life and pose as real people," said cryptozoologist Benjamin Switchy of the Switchy Center For the Strange and Unusual.
"It would not be out of the realm of possibility that the dummy did a little woodwork on himself so as to be a little more feminine — but not much — and he could have entered polite Royal society without being noticed.  Keep in mind that William has been dating Middleton (or whatever she might be) for nearly ten years.  Dummies often fashion artificial sexual organs so as to please the person they are seducing, so I would say that the odds are pretty good that Kate Middleton and the ventriloquist dummy from the old film 'MAGIC'  are the same creature.