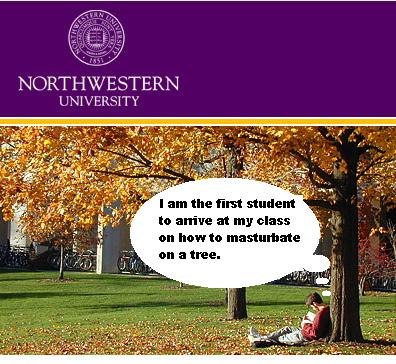 Ugly social misfit, Faith Kroll, 25, lay naked on a towel as she was penetrated in front of some 100 students from Professor John Bailey's "Human Sexuality" class at Northwestern University and had nearly 100 Northwestern University students show up to watch as Faith Kroll was penetrated by her fiancée with a sex toy.
The demonstration was part of an optional after-class discussion about the female orgasm.
Faith and her fiancee, Jim Marcus, 45, a guy who is a major loser, were out to prove to the class that female orgasm is real after deciding that a video the students were watching on the female orgasm was not realistic. Kroll continued to take off her clothes and she and Jim Marcus climbed on the stage and the pair demonstrated the use of a motorized device with a phallic object attached to it.  Jim Marcus could not use his own penis because it is much too small to make a woman have an orgasm.
"His penis is so small," said Faith Kroll.  "HOW SMALL IS IT," shouted the students.  "His penis is so small, that he can only have sex with an amoeba."
The couple was part of a group of four brought in to speak to the students about the world of fetish. And the school plans to pay Melvoin-Berg, the co-owner of Weird Chicago Tours, for the lecture.
In response to the demonstration, the school's president, Morton Schapiro, said in a statement that he was troubled and disappointed by it and that he is investigating the matter further.
"I feel it represented extremely poor judgment on the part of our faculty member," Schapiro said in the statement.