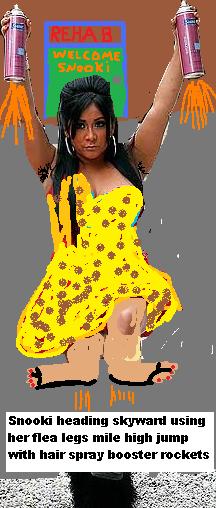 "She is drinking in the morning at some pretty shitty dives and she's falling down drunk," said a source close to Jersey Shore star Snooki. 
"I am afraid that she might have to check into rehab because she has gone way to far with the drinking and the sex.  She might need rehab for sex addiction and rehab for alcohol.   I think she does all this because she is short and has an inferiority complex.  Yeah, she comes off as a big cocky Guidette, but she has problems."
Snooki sure has her problems and chief among them is that she recently failed a DNA test which was administered to prove if she had the genes of a primitive humanoid.  The tests showed that Snooki is indeed a sub-human species and if she creates one offspring, it could set mankind back 75,000 years. 
"Snooki has powerful Australopithecus genes and DNA," said Dr. Kino Filma of the University of Kiev's School of Human Studies. 
"If she were to produce a son, he in turn might father four or five children and the results could be disastrous.  If Australopithecus DNA gets back into the blood of modern mankind. it will rage like a wildfire because these primitive humans breed wildly. 
"Snooki's species loves alcohol and alcohol is the premium ingredient here," continued Dr. Filma.  "Since they are not totally ugly, in a bar setting, it is quite possible that a sex act with a regular man could happen if that man happens to also be a little intoxicated.  Even two-beer-queers can be charmed by an Australopithecus woman and then you have a recipe wherein you get show-tune genes mixed in with Australopithecus genes.  Broadway would never be the same because the new show people would be primitive gays — even more primitive than the ones found now on the LOGO CHANNEL — especially The A-List New York."
Snooki might be forced into rehab by the Seaside Heights division of the CIA because they have had their eye on her for over a year and they know that Snooki is a crafty one. 
"We might send her to Betty Ford or a special rehab in Palm Springs," said CIA investigator Benjamin Switchy. 
 "This time we will bind her legs because of her super power of being able to leap hundreds of thousands of feet in the air and make an escape.  If you look closely at Snooki you can see that her butt goes up high and her stunted body is hunched forward over legs that are flea-like.  This is the trait of an Australopithecus and they can jump very high.  She won't get a chance to escape this time.  We have been warned that now she uses a pair of high-powered hair spray cans to assist in the jump and we are prepared for that this time."