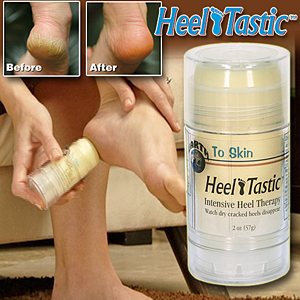 You've seen the infomercial where the product Heel Tastic is sold as a miracle cure for dry heels, but at $10.00 plus S&H it is a total rip-off — and you know why?  The ACTIVE INGREDIENT is 1% Dimethicone — that means wax.  Yeah yeah yeah, it contains all these exotic oils and stuff, but there is no proof that they do anything.  The only thing that is proven to help keep skin moist is the main ingredient — Dimethicone — and that's worth about 10 cents.
You can buy a huge tube of moisturizer that contains more 1% Dimethicone in a Dollar Store.  The active ingredient in almost all moisturizers is Dimethicone — it locks water into your skin and it's not really great at doing that.  The gimmick is that it you rub it on like a deodorant stick, but your feet have all kinds of curves and bends so the stick idea is a load of crap.
Go to your cheapo store and look for a thick moisturizing cream that contains dimethicone as its first ingredient — most do.  Rub it in with your hands so you will not only moisturize your feet, you will also moisturize your hands.  It shouldn't cost you more than $2.00.   This Heel Tastic ain't worth it.