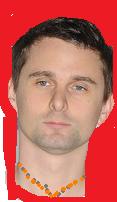 Kate Hudson will soon be a mother again with Matthew Bellamy, frontman of British arena rock act Muse.  They are expecting the illigitimate kid this summer.
Gee, it must be nice to just have kids and not have to worry about taking care of them when you've got 3 nannies and you don't have to worry about explaining to them who their father is or where he is because all their friends will be just like them — it's so chic.
 Hudson has been dating the "Uprising" rocker since spring 2010. "It [the pregnancy] was not planned, but they are excited and embracing it," said a source close to t he couple who is just glad that Kate didn't have an abortion like your run-of-the-mill Hollywood dopes.
The insider also added that Hudson is "happy for [her son] Ryder to finally have a brother or sister even if there really is no REAL family of a mother and father and a dinner table and stuff like that."    Seven-year-old Ryder is Hudson's only child with her ex-husband, Black Crowes frontman Chris Robinson. This will be the first of many children for Bellamy, who met Hudson after his split with fiancee Gaia Polloni and Hudson's breakup with New York Yankee slugger Alex Rodriguez. 
Do these frigging people know how to have a normal and fullfilling relationship?