Brigitta Jonsdottir is getting dragged into the US dragnet, and now her Twitter account might land her in  San Quentin – but, hey, at least it's warm.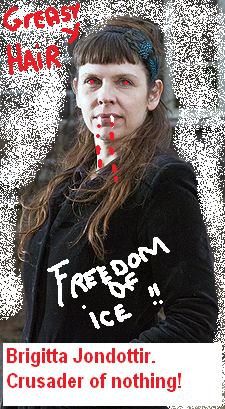 The hilarity and irony of her involvement with Assange and Wikileaks notwithstanding, is that she was angry at the US Government for spelling her last name incorrectly in the subpoena.  Why is that hilarious?  Well, because Icelandic people really don't have last names.  They take their father's first name and then add whether they are a son or a daughter.
For example:  Her "Last name" is Jonsdottir.  That means her father is Jons and she is his (Dottir) — Icelandic for daughter.  If she was a man, which is entirely possible, her name would be Jonson.  Get it?  My name would be Damien Jonson.  If my father's name was Milton and then I had a sex change, I would be Damien Miltonson who is now Damien Miltonsdottir — yawn!
She's a fucking misfit who hates the USA for no other reason than she is a nobody who grew up surrounded by ice and herring so she's gotta blame somebody, right?