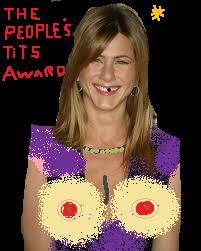 Jennifer Aniston wowed the crowd at the People's Choice Awards because her plunging neckline showed off what look like newly enhanced boobs.  She used to have none but now she is popping out all over the place.
A closer look would have shown that, beyond her boobs, Jennifer still has that mushy smushy face that's kinda creepy kinda cute kinda tired kinda yucky.
Just goes to show you what a little extra boob can do for ya!