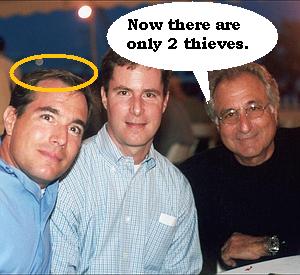 NEW YORK (Dec. 11) – One of Bernard Madoff's sons was found dead of an apparent suicide Saturday on the second anniversary of his father's arrest, according to police and a lawyer for the family.   Foul play is not suspected although the leveling hand of Karma was seen slinking down the street.
Mark Madoff, 46, was found dead in his apartment in Manhattan's fashionable SoHo section, a section he should not have been able to afford and perhaps couldn't.  According to police department spokesman Paul Browne,  a relative notified police around 7:30 a.m.
"Mark Madoff took his own life today. This is a terrible and unnecessary tragedy," his lawyer, Martin Flumenbaum, said in a written statement. 
A source close to Madoff also said,  "He needed the kind of billions that his father had stolen from others to continue living the life heled before his father went to the slammer and he had probably run out of hidden cash and jewels."
His body was found hanging from a dog leash that had been fashioned into a noose and strung over a pipe in the ceiling of his living room, according to a law enforcement official. The official was not authorized to speak publicly about the case and spoke to The Associated Press on the condition of anonymity.  The dog was sold last week in excahnge for a bottle of Dom Perignon champagne.
"Mark was an innocent victim of his father's monstrous crime (LIAR) who succumbed to two years of unrelenting pressure from false accusations and innuendo. We are all deeply saddened by this shocking turn of events," Flumenbaum said. 
The lawyer and others were rummaging through the apartment trying to find if tehy could  find a few grand in a cookie jar or something.
Mark Madoff and his brother, Andrew, were under investigation but hadn't faced any criminal charges in the massive Ponzi scheme that led to their father's jailing because the family probably knew they were cornered so they turned daddy in to make it look legit.
Bernard Madoff swindled a long list of investors out of billions of dollars and is serving a 150-year prison term in North Carolina. He was arrested on Dec. 11, 2008, after confessing his crimes to his family. (LIAR)
Madoff's sons, according to the family's attorneys, were the ones who turned him in — YEAH RIGH!
The scandal put a harsh light on members of the family. The financier's brother, Peter, played a prominent role in the family's company. Mark and Andrew Madoff both worked on a trading desk at the firm, on a side of the business that wasn't directly involved in the Ponzi scheme but in reality they were, more than likely,  were all in on it.
In February, Mark Madoff's wife, Stephanie, petitioned a court to change her last name and the last names of their two children, saying her family had gotten threats and was humiliated by the scandal but a source in West Palm Beach says she most likely wants to be able to spend whatever is left of the hidden money and jewels without anybody getting suspicious.
Law enforcement officials told The Associated Press that Mark Madoff's wife, who is in Florida, became concerned about her husband after getting a communication from her husband either Friday night or early Saturday morning suggesting that someone should check on their two-year-old child.
She asked her father to check on the home. When he arrived, he found the two-year-old sleeping safely in his bedroom, as well as the body.
A dog in the apartment was also unharmed but wearing a diamond collar that they forgot to hock.
A call to Bernard Madoff's attorney was not immediately returned Saturday. Calls to the FBI and U.S. Attorney's office were also not immediately returned. Previously, spokespeople for the brothers had repeatedly denied that they had any knowledge of their father's crimes. (LIARS)
A year ago, the court-appointed trustee trying to unravel Madoff's financial affairs sued several relatives, including Peter, Mark and Andrew, accusing them of failing to detect the fraud while living lavish lifestyles financed with the family's ill-gotten fortune.
The lawsuit accused Mark Madoff of using $66 million he received improperly to buy luxury homes in New York City, Nantucket and Connecticut.
The end truth is that the little scummy rat parasite could not live without the millions to which he had become accustomed.  He was afraid he would have to work like a regular schmuck.
Police investigators were at Madoff's apartment Saturday morning, along with officials from the medical examiner's office, which will determine the cause of death.  Avarice  and Karma, however, are suspects in the case.