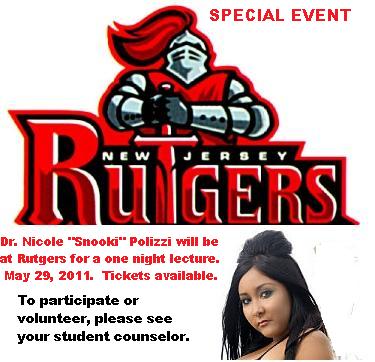 MTV's  "Jersey Shore" star Snooki will be the guest speaker at Rutgers University's  "Night of Celebrity and Fame"and the tickets are going fast.  Rutgers had previously honored Snooki with an honorary Doctorate in Letters and this latest speaking engagement seems to be another stepping stone towards Snooki being awarded a full professorship at New Jersey's State University.
"The tickets are selling so fast that we have decided to hold Dr. Snooki's lecture in the 8,000 seat Louis Brown Athletic Center in Piscataway,"  said Rutgers spokesperson,  Dr. Vinnie Gangerami, The Dean of New Jersey Studies and Cryptoanthropology.
"We have been conferring with Dr. Snooki for several months and we will announce the ground-breaking for our new Rutgers campus in Seaside Heights which should be ready in 2014.  That would be a great location because it will make Rutgers more accessible to students from southern New Jersey and perhaps even young people in the Philadelphia area. 
The new campus will have coed dorms and coed bedrooms.  We will also allow underage drinking and drug use.  We encourage unsafe sex and each dorm will have two hot tubs set aside for drinking and sex.  We expect to have at least one fatality a year, but that's about average for any school."
So, what will Dr. Snooki lecture about? 
"We have a prelimnary outline of Dr. Snooki's topic," said Dr. Gangerami.  "Primarily Dr. Snooki will discuss the recent events in Maine where she was allegedly followed by the CIA after being considered a threat to national security.  Of course that turned out to be a ruse and Dr. Snooki was simply aiding the CIA in finding actor randy Quaid who had made absurd accusations that there was a contract out on his life and the life of his wife.
"Also,  Dr. Snooki will address more serious topics like the Jersey Devil, a Yeti-like craeture that is known to inhabit the desolate Pine Barrens of southern New Jersey.   Dr. Snooki has always been a tireless New Jersey Devil advocate, and she is currently drafting legislation that will make it a felony to harm, harass or capture a Jersey Devil.  Dr. Snooki has been very protective of the Jersey Devil since she was a young girl and she has even had several meetings with the head Jersey Devil where she promised it her full support in the State Legislature."
Dr. Snooki spoke briefly to TheDamienZone.com about her dedication to preserving the quality of life for the Jersey Devil.
"They're like totally nice freaking creatures," said Dr. Snooki from her stool at The Surf Club in Seaside Heights.  "They like totally don't fucking bother nobody and they don't get up in anybody's shit so I think that maybe when Rutgers gets a campus down in Seaside (Heights) we will like totally like be able to study the Jersey Devil and not like fuck with his head and disrespect him and shit. I like am totally into helping the Jersey Devil and I think that if he shaved off the hair and got some product and a tan some of them are kinda hot.  I mean, I wouldn't fuck them or anything but they would be cool to hang out with."
Tickets for Dr. Snooki's lecture can be purchased at the campus bookstores, at TicketMaster or online at the Rutgers University website.  General seating is $25.00 and center stage seats are limited at $100.00 – $150.00.   Shots and beer will be available for $8.00 and flip flops are acceptable attire.   For those who are interested in other upcoming speakers at Rutgers, here's a link to  info about Mike The Situation's upcoming lecture at Rutgers. http://thedamienzone.com/2011/03/05/gay-rutgers-group-to-meet-with-mike-the-situation-sorrentino/