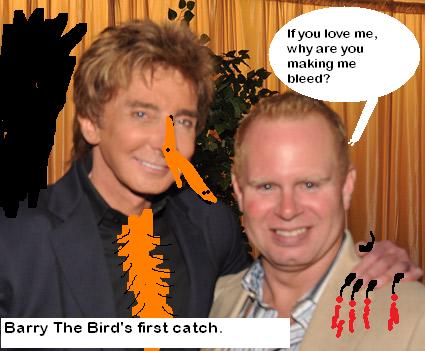 "I was so proud of my first wild catch, but I just couldn't eat him," said singer turned seabird, Barry Manilow. 
 "I was flying over John F. Kennedy International airport because I was visiting my mother on Long Island.  I looked down and I saw this fish jump out of an airplane and I caught it with my shiny new talons right in midair.  It is so cool to be a seabird.  You have no idea."
While Barry the Bird may have snagged himself a fish, the fish thinks that he may have snagged himself a man.  They say that nature provides and could you think of a better example than this?  The trouble is that Barry thinks one thing and his prey thinks another.
"I was sliding my way into fame when all of a sudden I was pulled into the air by razor-sharp talons," said two weeks ago's news, airline stewardess, Steven Slater.  "I thought an eagle or a big old hawk had got me, but when I looked up I saw that it was Barry Manilow. 
"I had been reading TheDamienZone.com so I knew that he had recently transformed himself into a bird and I recognized him from the pictures.  He held me so tight and we flew over the Statue of Liberty — it was so romantic."
"At First I thought he was trying to swallow me, but then I realized that he was just showing affection for me.  Isn't he dreamy? "
While Slater may be smitten with his new bird boy, Manilow has a different take on this.
"I was indeed trying to swallow him," squawked Manilow.  "He was just too fat to get down my throat." 
Oddly this is something Manilow has said quite a few times — even before he became a bird.
"I plan to keep him at my mother's until I can eat him," continued Manilow.  "My mother always wants what's best for me and she knows that I could choke.  So she is going to slim him down, and when he is thin enough she'll call me.  We will have some guys throw him out of the senior citizens high rise window and I will swoop down and gulp him up."
Steven Slater thinks he is staying with his new mother-in-law while Barry is busy touring in the Galapagos Islands.
"He even put me up with his mother at her beautiful penthouse," said Slater.  "This place is fab and as soon as he gets back from the tour we are going to have a romantic wedding on the beach in Fire Island. "
Dr. Sigmund Bern, of the Human and Bird Interaction Society has looked into this case and offered TheDamienZone.com his opinion.
"Of course Mr. Slater has concocted this romance in his head," said Dr. Bern.  "His petrified mind simply will not accept the fact that Barry the Bird merely wants to eat him.  It is a defense mechanism his brain has created to keep him from realizing that he is not only a hunted animal, he is being held captive by his hunter's mother.   This is a very common phenomenon in nature and we saw it with Sigourney Weaver in the Alien movie trilogy.  "Eventually Steven Slater will accept his fate."
So, while he may have been the Stewardess Who Got Away, he might not be so free after all.  He's holed up in some old lady's high-rise and kept on a strict diet.
Environmentalist are warning that they will take swift legal action against anyone who tries to sneak food to Slater so that he will stay chunky and render him impossible for Barry the Bird to swallow.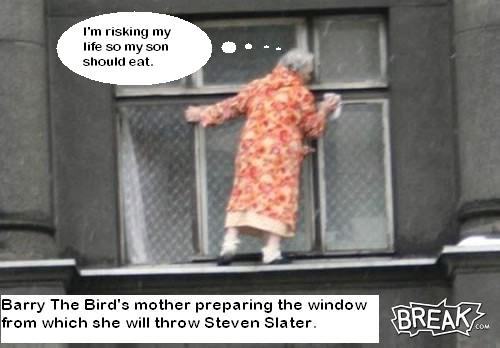 "Nobody better come near my house," yelled Mrs. Manilow, 101, of Center Moriches.  "It's bad enough that my son has turned himself into a fakakta bird or something and now I have to keep bait in my house.  Where did I go wrong?  Can you tell me?  Where did I go wrong?"
Barry the Bird will return from his tour of the Galapagos on September 20th.   We will keep you informed.