Richard Serra Sculpture Rusts in Bronx Yard
A massive sculpture by Richard Serra stands in a fenced lot in the South Bronx.
Somebody must have finally just shook somebody else by the shoulders and said, "This guy's sculptures are giant pieces of shit."  That's all it took and now one of the world's most celebrated no-talents has one of his giant steel pieces of shit rotting away in a junk yard where all of his stuff belongs in the first place.
To  see gargantuan steel pieces of shit fashioned by Richard Serra, you could visit the Guggenheim in Bilbao, Spain, or the Dia: Beacon, 60 miles north of New York City. Or you could go to a crane yard near a heating-oil terminal in Port Morris, an industrial corner of the South Bronx.  That's where you will find the piece of shit in question.
 Serra, 70, is world-famous for his massive steel pieces of junk, which were the subject of a retrospective at the Museum of Modern Art in 2007 that was run by pretentious no-talents.  Serra is notorious for being particular about how his pieces are displayed. In the 1980s,  Serra refused to move a sculpture that had been installed in Foley Square in Manhattan, declaring, "To remove the work is to destroy it."  Somebody must have told him to go fuck himself because nobody even knows it's there — maybe it's not?
Told of the unlikely exhibition, Eric Stark, curator of the New School Art Collection, and one of the most pretentious freaks on the planet, made the pilgrimage one recent morning to see for himself. "Wow," he said, walking up to the fence. "If you've seen enough of these ellipses, it just screams out that this is a Richard Serra."  Then Stark screamed again out as he was violated by a homeless drug addict.
Keep in mind that Eric whoever is a complete asshole who probably never picks up a check unless it's the locker key at…never mind.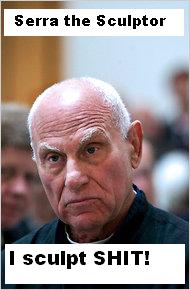 Nearby, a shopping cart lay in the shrubs. Used condoms and decomposing cardboard littered the ground. "I find the whole thing incredibly poetic," Mr. Stark said. "There is something gritty and real about it, to the sculpture and the neighborhood."
After Stark said this he puked at his own pretentiousness and then a gang came along and beat the shit outta him and called him a white beyotch.  The reason the thing is amongst filth and condoms is because that is where Serra's art belongs — wait a second — let's not be giving Serra or Stark any new ideas.    Two effing assholes.