Warning to mentally retarded or borderline retarded people:  DO NOT DO ANYTHING WRONG IN THE STATE OF VIRGINA.  THEY WILL PUT YOU TO SLEEP LIKE THE TIME YOUR DOGGIE GOT SICK AND YOUR MOMMY AND DADDY HAD TO HAVE THE DOCTOR SEND HIM TO HEAVEN.  DO YOU REMEMBER THAT AND HOW SAD YOU WERE?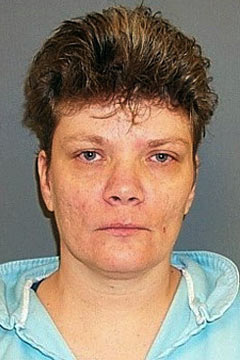 "Well, she was almost retarded," said a source close to the Virginia prison system.  "We was always teasing her and watching her play with her dolls and singing Jesus songs.  Can I tell ya something real secret like?  She didn't even kill nobody.  No, no she did not.  She paid somebody to kill her husband and her son.  We got people running around the jailhouse who killed four and five people but they ain't gonna kill them cause they ain't retarded."
Teresa Lewis, 41, died by injection at 9:13 p.m.  Thursday.  She became the first woman executed in Virginia in nearly a century. Supporters and relatives of the victims watched her execution at Greensville Correctional Center in Jarratt.
"In Virginia we kill the retards and the almost-retards for their crimes but everybody else pretty much gets to live out their lives in a cell block,"  said a former warden.  "They aren't really alive anyway when their IQ is that low (Lewis' was 70) so what's the good in keeping them around?  As a matter of fact, we almost let animal control gas those prisoners at the humane society, but we got these here stupid laws we gotta follow."
TheDamienZone finds the death penalty to be annoying for many reasons.  We are not against it, but it seems that some evil, murderous people who are smart and know how to work the system manage to avoid execution for decades while the less intelligent and more unfortunate people seem to get the juice quicker. 
This woman was, for all intents and purposes, mentally retarded.  Why'd they have to euthanize her like some sort of evil pet shop?  There was something very sick about her crime, but there was something much sicker about her execution.