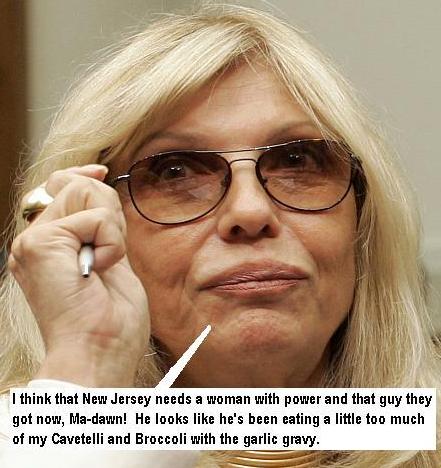 Her boots might be getting old, but they're still made for walking, and this weekend 1960s singer, former sex kitten and the daughter of Frank Sinatra is heading to New Jersey to announce that she is throwing her boots in the ring and she will seek the Governor's seat in The Garden State.
"That's right, honey, I'm going to New Jersey and I'm gonna fix up that shit hole," said the blond bombshell daughter of old blue eyes. 
 "My father thought that Hoboken was turning into a dump but the whole truth is that the whole freakin state is a dump. so I'm getting the hell out of Beverly Hills and I'm gonna set up shop in New Jersey.  I got some guys from the construction union over in Essex County already building my headquarters in Caldwell.  I'm not gonna build my headquarters in freakin West Caldwell because that's where The Sopranos live and that show stereotypes Italian-Americans.  Hold on a second, I gotta go stir my meatballs and gravy."
When quizzed about the tough issues facing New Jersey,  Miss Sinatra zeroed in on one subject.
"What's with this Moslem book thingy," said the still ravishing Nancy.  "Foster Brooks was always a lovable drunk back when I was in Vegas with my pop and now he wants to go and spoil it all by saying something stupid like I'm burning Koran's?"
Nancy may be confusing the late Foster Brooks, a fringe member of the rat pack through his strong ties with Dean Martin, with Terry Jones, the controversial Florida preacher, who first lit a spark on Facebook when he called for people around the world to set fire to copies of the Koran, and is now at the center of an international conflagration.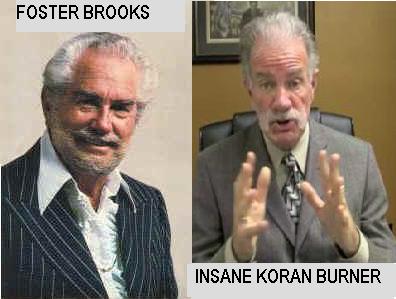 "Look, sweethearts, I got the two guys mixed up, but  I can handle anything you wanna throw at me,"  said a serious Nancy.  "You know, people think that all I am is a pretty face that walks around with go-go boots, but if the folks in New Jersey give me a chance in Trenton, I'll show them how to shake things up — even if I have to shake a few people down."
When asked about what her biggest plan to save New Jersey would be, Miss Sinatra, now "Candidate Sinatra" said that it was all about family values.
"Look, the kids today have no respect for anything,"  continued Nancy as her Ukrainian housekeeper, Svetlanka Tobovich, touched up the singers  dark roots with Clairol #230.  "You gotta get down to basics with the kids in New Jersey, you know?
"Jesus Christ,Svetlanka, you're freakin hurtin me!"  Sinatra bellowed at Tobovich. 
"These freakin Ukrainains!  I give her a job and a nice place to live and now she gets her kicks by pulling my hair outta my head.  Frigging ingrates!  Last week she was supposed to polish my go-go boots and by the time I got to Spago the water proofing was worn off because she does a shit job. 
"I miss the old days when pop had Chinese guys working around here. They had pride in their work, not like these communists – and don't kid yourself that they're still not reds.  Leopards don't change their spots.  Everytime she yanks my hair, it's like her own little nuclear bomb she uses to get even with me and Eisenhower and Jack Kennedy. But I sold about a million albums in the Soviet Union back in the day — all black market –no residuals.  What are you gonna do?"
After Svetlana agreed to be more gentle, Nancy got back to her plans to save the family values in New Jersey.
"Okay so here's how my plan  goes. 
"The Catholics — they gotta start  going to church.  The Jews — they gotta start spending more time in the synagogue.  The Baptists — they gotta do that wild gospel thing that they do because that's the best, baby, and it reminds me of Ella and Aretha–  and I like the hats those religious black ladies wear.  Those gals are swinging with something groovy and I like that.
"All the others — I don't give a shit with what they do — cause I'm dealing with numbers here, baby — numbers!    They call it demographics and I got a guy who fills me in on all that shit."
Asked about education, Candidate Sinatra gave a very earthy reply.
"Hey, some people gotta be ditch diggers and there's a lot of people who should be digging ditches in New Jersey, I'll tell you that right now —  and some of them have money. 
"You see those big fancy boats and houses down on Barnegat Bay and Long Beach Island? A lotta the people who own them are friggging morons.   So you look around and you see that you don't have to be a rocket scientist to pull down a few dollars.
"And  If you go to school that's good, but if you screw up or bring a gun you're done!   D-O-N-E – done!  And if you don't know what I mean when I say "done" you can get the hell outta my house.   I just cleaned the floors here for chrissake, but I got a storage facilty — 36 by 36  in Van Nuys.  You can fit a lot of freezers in there."
When asked what political party Nancy will choose for her ticket, she laughed.
"Why are you breakin my balls?  I don't do parties, buster.  Parties are for suckers.    Only a sucker joins a party cause a party is like a cult.  They're no better than crips and bloods.  Don't try to pigeon-hole me. I'll kick your ass and if I can't do it, I know about 100 peole who can."
Although she's already made her first political gaffe by confusing a Koran burning pastor with the late comedian Foster Brooks, Nancy Sinatra sounds like she can run the shit out of New Jersey.
"I'm not fucking around," continued the sultry songstress.  "You vote for me and I'll show you that New Jersey's been messin where it shouldn't have been messin.  They've been lying when they oughta be truthing.  I'll fix that too."
TheDamienZone would like to be the first  to wish Miss Sinatra good luck