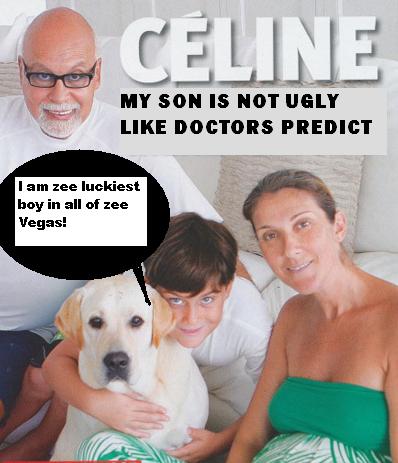 Doctors at Montreal's L'hôpital Pour Les Enfants Laids  [Hospital For Ugly Children] have closed the case on Celine Dion's son René-Charles, saying that the child is not ugly and they are moving on to monitor the baby that the Canadian diva is now carrying. 
The boy, René-Charles Dion Angélil, had been under close observation since his birth in January 2001.  Genetic specialists had counseled Dion and her husband that there was no way Dion could have a baby that wouldn't scare the bejesus out of ordinary people.  Doctors had even harvested stem cells from Bradd Pitt and Tom Cruise which they planned to inject right into the kid's face in the event that the his ugliness began to rear its ugly head early on — but it didn't.
"Normally we accept ugly babies at the moment they are born and deemed to be ugly by the doctor's in attendance,"  said Dr. Francois Galinette of the hospitals Center for Hideous Baby Case Management. 
"In the case of Celine Dion's son we just assumed that the kid would grow up to be ugly, but by some act of fate, perhaps the merciful hand of god, the little boy has grown up to be actually a cute little kid.   There is no explanation.  He does not try to sing or act out false humility or do any of the things that his mother does that add to her physical ugliness.  Don't get me wrong, she's a dog but her fake personality enhance the horror of it all. "
Doctors had been closely monitoring the child because they feared that he would mature into a monstrosity, but it soon became apparent that the child was some kind of gentic freak who inherited genes from perhaps hundreds of generations back.
"I know zat dare were some good looking peoples in my family many centuries ago," said the teary-eyed and very pregnant Celine from her penthouse atop New York New York Hotel in Las Vegas.  "My husband. he is so happy because even though he loves me and is ugly as well, he has tell to me that there was no way that somebody who look like me could produce zee normal fetus.  Zee whole thing is a miracle."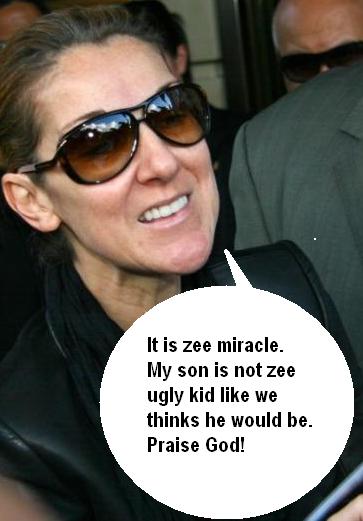 Doctors are seriously concerned about the baby Celine is now carrying.
"Already the lunp in her belly is shoing signs of ugliness," continued Dr. Galinette.  "The last ultrasound showed only a chin and a beating heart.  We are prepared for the worst."
"Poor little René-Charles," said a source close to the family.  "God gave him good looks and a pleasant and unphony personality, but many years from now when his father and Celine are long gone, he will be burdened by having to drag along his sibling, who at this time looks like he might be just a chin and some flippers.  God gives and God takes away."