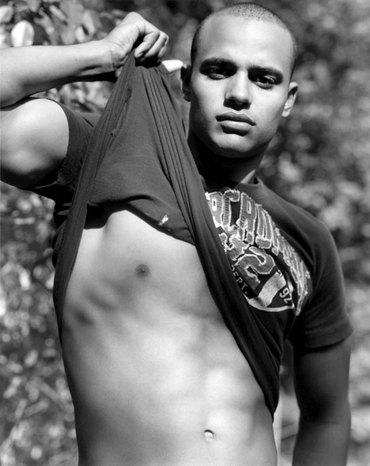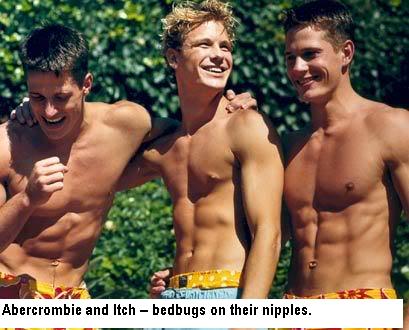 Abercrombie & Fitch Co. , the male nipple fetish store,  said Friday that it closed a second store in New York due to a bed bug infestation.  They might change their name to Abercrombie & Itch, but a spokesman was yet unsure.
The preppy teen clothing seller that loves to show male nipples  said it closed a Hollister store on Thursday in the SoHo neighborhood of New York. That location is expected to open at 10 a.m. on Saturday.
It closed a second location, an Abercrombie & Fitch store in the South Street Seaport, on Friday for the same reason and also because they didn't have posters of guys with large enough nipples.
Abercrombie's flagship New York store on Fifth Avenue has been tested and is not affected by bed bugs, the New Albany, Ohio, company says, but they will keeep selling stuff by using pictures of guys with nice pecs and nipples. 
Abercrombie says it asked New York City's Mayor's office how it should deal with the problem.
"It appears to be a localized, downtown issue," said Iska Hain, a spokeswoman for the chain in a telephone interview with The Associated Press. She said it's unlikely that the source of bedbugs was a supplier.
The city's health department said it offered guidance to the company and that it is proactively treating the store. While the department said it knew of no other instances of bed bugs at city stores, it is the responsibility of companies to treat bed bug problems.
Hain said as soon as it learned of the problem at the SoHo store on Wednesday, the company began testing all of its distribution centers and all stores nationwide.  It also tested the nipples of all it's male models for traces of bed bug eggs.
Abercrombie & Fitch Co. said Friday that it closed a second store in New York due to a bed bug infestation but they will not sell their store in West Hollywood where they sell actual male nipples that are harvested from old, dead, or outta shape former models.  Nipples start at $199.00