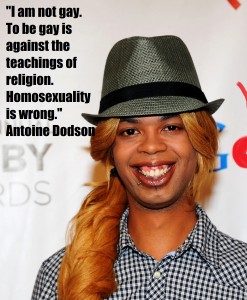 Why is this Antoine Dodson Facebook page suddenly so popular?
In light of the recent life changes announced by Antoine — a guy with quirky talent who got lucky when somebody broke into his apartment in the projects — you would think people — especially gay people — would be more discerning about the people they "share" on Facebook — but they are not discerning.
They're morons just like their heterosexual counterparts who live only to "share" without concern or forethought.  That is the nature of the Facebook Simpleton regardless of sexual orientation.
FOLKS!  Antoine Dodson is no longer gay — he says so himself — where is the outrage?  Antoine believes living a homosexual "lifestyle" is wrong and anti-religious.  Don't you morons know that about him?  Do you ever read a frigging news story or even pick up a cheap magazine?   I am happy for Antoine that he is no longer hunting for a paycheck, but how dumb are some people — really? 
I am not hating on Antoine Dodson because he was a low income, gay African-American who lived in the projects and then became famous.  I am angry at the LGBT community for not knowing  that he has angrily and religiously ditched them in favour of chicks and babes — so he says.
The gays who don't read or don't care still love him, and it makes no sense whatsoever.  His Facebook page has over 1,000,000 followers — ahhhh — but maybe that's the key to Antoine's recent transformation?  There are less than 20 million gay people in the USA and success with the gay crowd is nowhere near as lucrative as it is with the Christian straight crowd.
Okay, I get it now.  Using Jesus for money — nothing new about that.  Is Antoine doing that or has he had some kind of weird revelation?  I don't know.  That's his business, but the sad truth is that nobody has bothered to learn about the new Antoine Dodson.  Therein lies the stupidity of certain people, and that is why we write this blog, right?  We write to expose stupidity and dumbness when and wherever it might occur.
The Simpletons of Facebook — which is just about everyone who has an account on Facebook — embraced Antoine when he became an overnight sensation via his viral video, and in spite of his recent admissions and admonitions  against gaiety, he is still popular — especially in the gay male community where one would expect him to be vilified, but in order to know the more recent truth about Antoine Dodson, at least one gay guy would have to read or learn or study — something the average Facebook Simpleton is unable to do with any degree of non-stupidity.
Let's start from the beginning.
A few years ago, someone broke into Antoine's home in the low income projects of the Lincoln Park Housing Project in Huntsville, Alabama, USA, and climbed into bed with his sister.
Antoine's sister bravely stated that the intruder tried to rape her, and when she was interviewed on local TV about that incident, Antoine chimed in with his diatribe against the intruder.  It was concise and comical — so comical in fact that some enterprising young musicians took his TV interview and put it to an AUTO-TUNE music video which went viral.
Do you know it?
"Hide your kids, hide your wife, hide your kids, hide your wife, and hide your husbands because they're raping everybody out here.  You don't have to come and confess. We're looking for you.  We gonna find you, we gonna find you. So you can run and tell that, run and tell that, home boy, home boy….etc."
So Antoine became an overnight sensation with his auto-tuned "Hide your kids, Hide Your Wife" viral video musical, and Antoine was openly gay — very flamboyant and funny and engaging — and but now he is singing a different tune.
Seems the former Miss Thing Dodson, has prayed away the gay and gone religiously freaky. Doesn't anyone know this about him?  Do the simpletons of Facebook only look for homophobia in the American GOP or on CBN?   Antoine himself sounds awfully homophobic, and he has renounced his faith in Judy Garland, and for most gay men that's grounds for excommunication.
Antoine Dodson announced recently that he was straight at the same time he proclaimed himself to be the 'True Chosen Hebrew Israelite descendant of Judah' on Facebook. He is now expecting a child with a woman he calls "his queen." This is a far cry from the queens Antoine used to impregnate — in a manner of speaking. 
Dodson stated, "I have to renounce myself, I'm no longer into homosexuality I want a wife and family, I want to multiply and raise and love my family that I create,"
This was mild when compared to some of the things Dodson has said since claiming to have made the switch from dicks to chicks.
"The Bible states against it (homosexuality)."  "I am not praying away the gay.  You can just lift it.  If you want to change your life you can."   "I'm trying to move away from being gay and become a better person." "Back then I was dumb.  I didn't know the Bible, I didn't read the Bible like I should have done."
It gets even more in your face, folks, but I don't have the time.  The truth is that Antoine used the money he made to get his ass out of the projects and into a nice home in Los Angeles where he now proclaims a to be a chosen Hebrew Israelite.
Yeah, so to all of you morons out there in Facebook land, be mindful of the person you are helping to make wealthy.  Personally, I don't care if Antoine is gay or straight or just plain stupid — which he seems to be — but really, how could so many people not know the truth about the new Antoine Dodson?
Like Antoine Dodson himself said when he addressed the news camera and the American public: "You are really dumb. You are so dumb.  Fer real! "