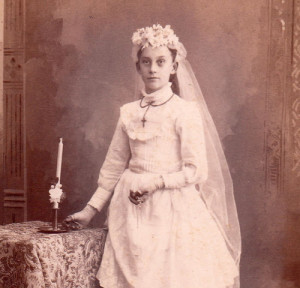 A photo has been circulating on the net, and in this photo — which is believed to be an example of Victorian Memorial photography — a young girl is shown standing next to a table dressed in a what appears to be a Confirmation dress with added rosary.  Some people say the girl in this photo is dead and others say she isn't.  The truth is that she is indeed dead as her photo is very famous, albeit attached to much mystery. 
With that said, we bring you the tragic story about this young girl and why she looked the way she did. 
It's very rare to have an actual story about these old photos of the dead, so we are especially proud to bring you this story of Agnes Louise Farragat — a girl we only knew until recently as the "Dead Girl Standing"  or "The Girl in the Confirmation Dress."  It also serves as a reminder to all of us to get a tetanus shot every now and then.
This is a Memorial Depiction (post mortem) of Agnes Louise Farragat , aged 17 (possibly 16), of Philadelphia, Pennsylvania USA, daughter of Eugene and Autumn (Charters) Farragat.
"Miss Farragat departed this earth April 13, 1884 after a sudden onset of fever of 4 days duration with dyspnea [breathlessness], palpitations, fretful disorientation with pallor and continuous spastic rigidity and painful arching of her of her back and spine, and thusly my diagnosis is acute tetanus with gangrenous complications of the right hand as a result of a splintered wood penetration to that hand. Noteworthy that there is no apparent lockjaw as one would expect." [ Submitted Signature: Dr. Ferris Mills MD, Philadelphia].
Mortuary notes.
Agnes Farragat.  Photographed in death by Collier Brothers Mortuary, Heston J. Collier proprietor , in his Philadelphia parlour 3 days and one afternoon after her passing from this life.
Miss Farragat was a skilled and capable reader, a singer of hymns and an accomplished student of violin and French language. She had given her hand in promise of marriage to Kelvin Morris Blake, 20, the son of the Arthur (deceased) and Hannah Blake of Camden, New Jersey and was to be married May 1, 1884 in a service of the Roman Catholic Faith to which she held so close to her heart as did her dear grandmother Lalique Charters of Albany, New York . And all this is very sad for both families and friends concerned. Young Mr. Blake is said to be inconsolable and had taken reluctantly to his bed on the orders of his physician, Dr. Drew Previtte MD who refused him access to his horse or any transportation until such time that he is in the company of his mother or a gentleman friend which was soon forthcoming in the form of many friends and family.
Later notes (1922) were added by her younger brother Thomas Farragat – (1873-1930)
"Our beloved Agnes so small and frail as she was in life with her hands and feet blackened as and her odor was foul. She was tightly wrapped in bolts of white linens which had been soaked in rosewater and glycerine to make her body less curved as it had been left at the moment of her death from spasms and she was swollen and festering about her abdomen.  The large cherubic woman who did this wrapping was rather strong and stern and was without expression but she was kind in a matronly way and very determined and perhaps not wanting to attach herself to so much grief. I think she was a field nurse they said as she was very adept with linen bandages and the odor did not seen to disturb her in the slightest bit as it did Mister Collier and myself and the other men in his employ.  A seamstress from town volunteered to remove the outer layer of her dress which was to also be her bridal gown so as to make it seem more demure and less celebratory and we were happy to have that done in the name of quiet dignity as Agnes had joined into ceremony with the Catholic Church as was the true faith of our beloved grandmother Lalique.  I did not think it macabre at the time as our Agnes was not quite held aloft with a standing rack as I had seen being done in another time but rather she was very slightly inclined at the edge of the table which was made from heavy iron.  Her right hand arm was very foul smelling just as it had already began to be while she was yet alive and in much distress, and Mister Collier was deeply disturbed by this as though she was his own child and he wept for a moment. He fastened flat iron to the back of her arms and spent much time adjusting and readjusting her stance.  Her green eyes were flat and looking in no apparent direction yet they were held open and centered with spirit gum. However, with great distress to us all during the photography both eyes seemed to half close and wander but were later fixed artistically by a dedicated student who spoke in an accent which I could not identify. I remember too being so very sad for my sister, but Mister Collier was very kind and he took great pride in his work with devotion and sincerity which eased my anxieties. My mother refused to attend at this photography and my father stood outside for hours in the rain and did much pacing at the front of the mortuary and wanting only for this to end in spite of the fact that he had ordered this photograph to be a final tribute to be sent to his sisters in Virginia who were to have soon been enroute to the wedding at our home in Philadelphia.  This was at a great expense to them as they were rather poor and increasingly depended on father for assistance.  Immediately after this photograph was completed and Mister Collier was satisfied, my sister was placed in her coffin which was very pretty.  Her coffin was closed with little ceremony and she was buried the next morning when thankfully the rain had stopped and her service was met with fine weather and the smell of springtime. Her beau was in attendance with his mother and sister and he openly wept without any discretion. I remember that we never were to see him again after the interment. I may miss a day in these events because I seem to recall a well attended church service but that may have all been on the same day. I was only 11 years old at the time.
Notes: A further investigation into this cause of death would most likely be tetanus poisoning as a result of an injury to her right hand by a heavy splinter from a hard wood pile that had penetrated the soft part of her palm and had caused her great pain and swelling for many days prior to her falling gravely ill. Agnes Farragat was supposedly buried in Philadelphia but her grave has not been located. It may have been excavated and reused in 1988 as per the rules of the cemetery which reuses graves after 99 years unless perpetual care is paid. It may not have been payed due to the fact that the Farragat family simply forgot or expected to remove her at the time of their own deaths or they were unaware.  [Alistair Gerritson MD]
So yes, this is a real dead person. And now you know the story. Damien LeGallienne.  More explanations and examples can be found if you contact this writer at this link.  http://www.imdb.com/name/nm3834680/?ref_=fn_al_nm_1