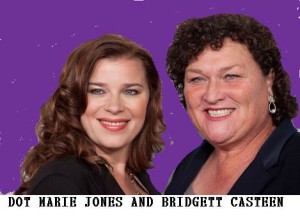 Friday was Gay Day at Disneyland in Anaheim, California, and GLEE fans all over the world were ecstatic to learn that Dot Marie Jones — "Coach Beist" from the mega hit show GLEE — had proposed to her longtime partner and companion Bridgett Casteen. 
The couple have two gorgeous children from Bridgett's previous marriage, and Dot's got herself an instant family — even though she and Bridgett have been together for three years.   But now it's offically official, and it was truly a magical day at the Magic Kingdom.
"It was all so romantic, and right there in front of the Sleeping Beauty Castle," said Anna Carson, a tourist from Laramie Wyoming who was spending Gay Day with her own life partner Kate and thousands of other members of the LGBT community.  Disney reports that there were 30,000 people in attendance — WOW!
Dot Joes was beaming as she was being interviewed.
"It's the happiest day of my life. I never thought I'd find somebody that is so loving and kind," Dot Jones told The Advocate at Anaheim Gay Days, an annual weekend event LGBT visitors and their friends to the family amusement park.
The Damien Zone knows that this is the happiest day and the most important day for Dot Jones whose career and fame is really starting to skyrocket.   Dot  has been nominated for a Primetime Emmy Award three times for her Glee role. 
Glee fans are in for even more of a treat now that Dot Jones also stars as a loveable matchmaker in the hot new TV show, "Have You Met Miss Jones" where she shares the screen with the legendary Patty McCormack.  The new show also stars James Di Giacomo, James Kyson, Art LeFleur and many more.  
Hey — you can even watch the entire pilot episode of Have You Met Miss Jones with Dot Jones right here——>http://www.youtube.com/missjonesshow.   Just click it and watch.  It's great!  
Accoding to James Di Gicaomo, the producer @missjonesshow, Dot said that "she gets so many scripts but  Have you Met Miss Jones really stood out."  She said she was "impressed with the writing and and the concept and that she enjoyed the fact that she gets to play a fun character and not some big angry woman."  Glee fans are really going to love her in this new show.
"It was so sad when Cory died," said Kyle Gramirez of Glendale, California, but Dot's big smile is the ray of sunshine that holds us all together. She's great and now that she's in Have You Met Miss Jones we get to see more of her. I wish she was in a hundred shows."
Kyle was referring to GLEE cast member Cory Monteith who died earlier this year.  The entire Glee family is still devestated by Cory's death, but Dot seems to be the one who is going to bring the sunshine back.
The Damien Zone is ultra happy for Dot and Bridgett and we wish them both years and years and years of happiness and joy.  
Remember, if you want to see the full pilot episode of Have You Met Miss Jones with Dot Jones as "Lolly" the matchmaker — you can watch it for free right here.  http://www.youtube.com/missjonesshow   and you can follow it on Twitter @missjonesshow