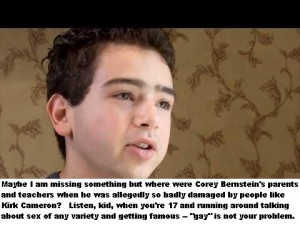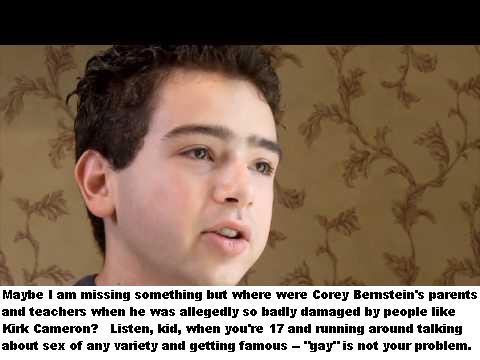 So there's this pushy and unbearably annoying kid in New Jersey named Corey Bernstein and at the advanced age of 17, he is openly and militantly gay — but that's not enough for the little brat.  He wants to be famous too. 
He's looking for trouble and he's looking in the right direction because my best guess is that he is being coached by others.  YUK!
Where are your parents Corey?  Where were your lazy do-nothing ass-wipe NJ teachers when you were sooooooo hurt by Kirk Cameron's family values?  Stop with the bullshit and kindly let the real person who is using you as a frigging puppet show their face.
Hey — if you want to act all grown up and gay, you need to grow a thicker skin and a lot less of a heavy beard….you frigging little whining pain in the ass phony.  Ugh — what a horror show this is.
I guess being the head of some LGBT thing isn't bringing Corey enough fame, so he has decided to drag in the washed-up-former-child-star-turned-Christian-Family-Values- activist, Kirk Cameron, into his, "hey look at me I'm gay world" by whining about how much "Kirk has damaged gay teens." 
What a crock of shit!  This kid is about as "damaged" as the undamaged shit people return to Nordstrom's just because that store will take anything back.
This Corey Bernstein is an out and in your face baby gay activist and he's looking to get famous — and his parents are probably looking for a publicity agent — I could just puke.  Certain people cannot fool me — actually nobody can fool me.   
So, stop the bullshitting, Corey, and stop talking about your gay sex or any sex.  Whomever it is that enabling you is tawdry and cheap and disgusting.  Wait until you grow up to be a frigging loser.  You are only 17 — go collect butterflies or start a stamp collection or get a part in the school play or something and stop trying to get on Maury Povich, you little pain in the ass. 
Kudos to Kirk for ignoring this little fame-seeking  totally transparent dope.
Don't get me wrong, folks, Kirk Cameron is viewed by many as a kook but that's his thing and if you can't respect the religious beliefs of others, you're a fucking misfit and you should shut the fuck up and wait until you grow up. 
Somebody is totally using this Corey kid to push their agenda with the idea that if Kirk responded, he would be "bullying" a child — but Corey Bernstein has served noticed on the world that he is NOT a child.  He is a GAY MAN!   So if you want to be a gay man, or the people who are working your strings want you to be known as a gay puppet-man, you have to take THE HEAT and not THE MONEY!  
Come on — this is all about money and talk shows and a book and fame — who the fuck do they think they are kidding?  Not me – that's for sure.
Kirk is not damaging anyone but himself as far as Hollywood goes, but at least he is not a phony and he says what he believes.  He is not hurting some pushy and nervy kid who claims to have been so badly victimized by being gay. 
Listen, Corey, when you are 17 you might feel gay or straight or horny, but if you have any class or manners or dignity — which is something your parents should have taught you — you don't talk about sexuality and brag about it.   It's trashy, low-rent and sickening.  
I have to side with Kirk on this because this Corey kid is annoying me enormously.  He is either the world's most annoying kid or he is an electronic creature who is being operated remotely by some pretty skanky assholes.