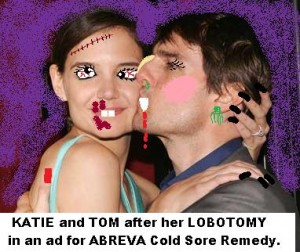 TMZ – the slime-of-the-world gossip column that usually gets it right — is reporting that Tom Cruise and his cold sore face wife Katie Holmes have finished their marriage.  Holmes filed for divorce from Cruise in New York yesterday and she wants SOLE CUSTODY of the kid — Suri.   Tom Cruise has not yet come out of the closet about this news story, but rumors are that he is "devestated."
The fact that Mrs. Cruise (Katie Holmes) is seeking sole custody of the Martian baby is ample testament to the fact that this divorce is a bad one — somebody really hates somebody here, and all signs point to Tom as being the object of some kind of animosity.  Alien chips planted in Suri will reveal the child's location even if Holmes makes off with the kid.
"Katie is afraid that Tom will raise the baby in the cult of Scientology and after what she's been through with that bunch of loons, she's finally broken free and she wants to keep her baby with her," said Dr. Dean Traherne, a family physician and the director or KMD, Kids in the Middle of Divorce, a children's advocacy group that sponsors legals representation for the children caught in the crosshairs of nasty divorce cases.
"Miss Holmes has probably endured hours and hours of brainwashing by the cult prior to her marriage to Cruise.  She vanished a week or two before the marriage and re-emerged covered with cold sores and fever blisters and looking like she's been dragged by a bucking bronco. 
Tom Cruise might be insane but we're not sure yet.  He is certainly dumb, that has been established beyond a shadow of a doubt, but we're not yet sure he is insane.  Cruise has other kids besides Suri but those are brown-ish kids he adopted with his previous wife and who knows where they are anyway." 
So that's the end of that story — TheDamienZone wonders — "Who will Tom Cruise pick next for a new wife?  Some say it will be a young starlet or an up and coming girl singer, but we think it might even be BelAmi model Dana Sulick who has now turned to directing — we don't know for sure.  Divorce is a hard thing for Tom Cruise to face, but maybe if he talks about it with his friend John Travolta after a nice steambath at an LA Turkish Bath, he might come to terms with it.