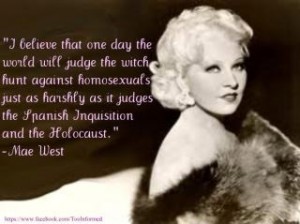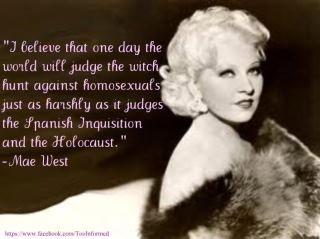 Facebook dummies — gay ones again this month —  are still at it, and this time they're dragging poor old Mae West into their world of misquotes and hoaxes and totally fake shit.  Mae West NEVER said what you are about to read on your Facebook page any minute now.  You may not have seen this yet, but one of your fellow idiots will "share" it with you.
File this under:  "Fake facebook Quotes That Facebook Morons Share,"
HERE IS THE FAKE QUOTE—->"I believe that one day the world will judge the witch hunt against homosexuals just as harshly as it judges the Spanish Inquisition and the Holocaust." [Mae West]
HERE IS THE REAL QUOTE—–>"I believe that one day the world will judge the witch hunt against homosexuals as an unbelievable injustice perpetrated by supposedly 'moral' people against innocent groups, just as harshly as it judges the Spanish Inquisition and the Holocaust. Both the Church and the Nazis believed they were acting in good faith."  [N. McLean, Burlington, ON. Letter to the editor, The Globe and Mail, 1998-APR-11]
See — this was actually written by an ordinary man who sent a letter to the editor of a Canadian newspaper.  He was not a moron — but he has left behind a legacy that Facebook idiots will pass along until they come up with another self-promoting fake quote.  Maybe next time it will be Mother Teresa or Betty White or Mary Todd Lincoln — who knows?
You can blame this sickening hoax on a totally idiotic Facebook gang of faux-inspirational morons who call themselves "TooInformed."  Sadly, they are not informed at all.  Hopefully you already knew that.   As a matter of fact, they're full out stupid because they pretty much stole the quote when it was published by a gay tolerant Christian religious group who used the real text and the real name of the real author.  In other words, to add fuel to the fire against religious people who don't approve of homosexuality, some gay Facebook vandals stole from a religious group which has been very supportive of gays and passed it along like a Trojan horse to their fellow, less perceptive, gays and hippies.
We here at TheDamienZone.com hope that the Christian group which originally published the real quote now realizes what they're up against, and in the future they will continue to be tolerant of sincere gay people and less tolerant of gay liars and troublemakers.
The lunacy goes beyond a simple misquote.  Anyone with a brain knows that this was not Mae's style. Anybody who knows anything about Mae West knows that while Mae was open about sex and "fairies", this was not something anyone of her time would have said — the whole concept that Mae West would have said this is absurd!
And yes!  Mae used the words fairies, fags, homos, queens — by today's standards, her lexicon was not what one would consider politically correct.  Also, after the Holocaust came to be known for it was, Mae was already on the decline and she would not have even had a vehicle on or in which to air these thoughts.  It was a time when something like this would not have even been published or aired.  But why do we bother with all that explaining when we simply know who really wrote the words?
WHY?
Well, simply because armchair gay activist Facebookers are using Mae's rotted corpse to shill for their agenda when in fact many gay Mae West fans — and there's about a zillion of those — know full well that Mae never said this?
Perhaps I will stick to my original opinion — that there are far too many Facbook morons who actually believe this crap and they sooooooo want this to be true.  They are too lazy to look into the truth and they are much too stupid to automatically realize that this is a complete hoax.
Stupid people will fall for anything — and this is a perfect example of something being much worse than a misquote.  It's an example of someone knowingly taking someone else's words and pasting them to an icon so as to create a crusade.
That's the kind of childish junk that disingenuous liberals and mindless activists ( gay or otherwise) do because they're too lazy to find real quotes to support their various causes.  This is practically criminal and if Mae West were alive today, she could petition the courts and these people would be in big trouble.  Mae was ahead of her time, but she wouldn't take to kindly to being misquoted — especially like this; with three touchy subjects getting mentioned in the same quote.
We at TheDamienZone.com don't believe there is anythng wrong with being gay — not by a longshot — but we do believe that there is something wrong with being blatantly stupid and depeceptive — or perhaps a little of both.