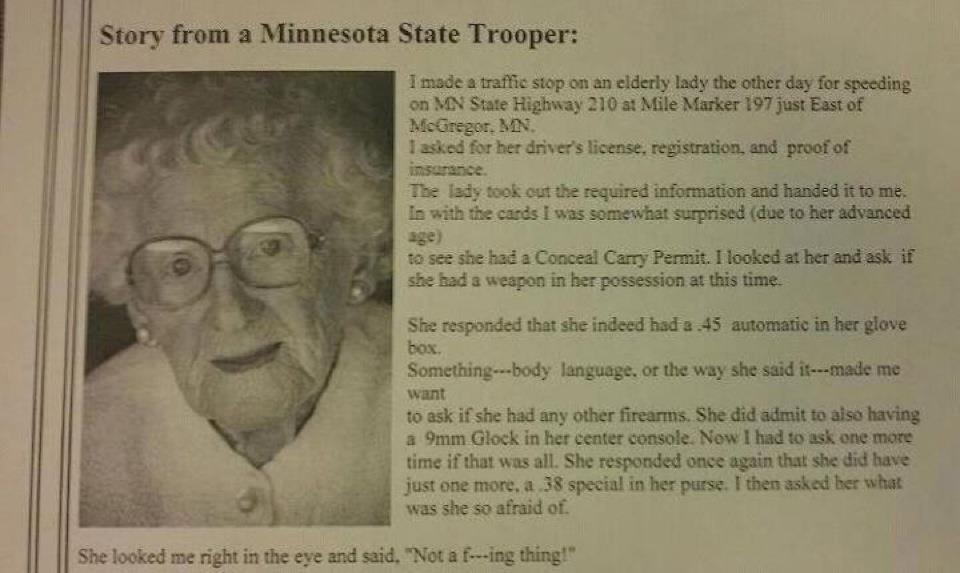 The stupid story going around on Facebook about a woman who had a lot of guns in her car when stopped by a Minnsesota state trooper for a traffic violation is a complete hoax.  As a matter of fact, it's such a hoax that the picture that is being circulated on facebook with a photo of a woman has come under fire because it's a photo from a family reunion of a Mrs. Abagail Armstrong who died in 2002 at age 94 and never had a car or a driver's license.  The Facebooke "sharers" are truly being fooled — are you one of them?
The story is funny — BUT IT'S TOTALLY FALSE, and the old lady whose picture appears in this latest Facebook share is the mother of a military officer who is really ticked off.
"I received a message from a friend that pictures of my mother were circulating on Facebook," said Peter Armstrong, 76, a former Air Force officer and retired airline pilot who lives in San Diego, California USA.
"I instantly thought that perhaps my children or grandchildren had put up  a picture and it somehow got to my friend.  He told me that this was not the case and that I should have a look at it and that I was not going to like it.  Since I do not have a Facebook account, he sent me an email with the photo of my mother and the strange story that went along with it.  I was shocked.
"That picture was taken at a family reunion in the fall of 2000 by a professional photographer my brother and I had hired because my mother was there with her three sisters and each of them were in their nineties.  This picture is one he took of my mother and a black and white reproduction of the original photo which actually hangs in my living room and each of my children has one as well.  The photo really captured my mother's face and personality."
Armstrong then fired off a call to the photographer only to find that the business was now owned by a different person entirely and that the original photographer, Arial-Hin Arcevo, had returned to his home in Thailand.  The new owner told Armstrong that he was not surprised that a photo of his mother was circulating on the internet.
"I was told that Mr. Arcevo had a good business going in Thailand of selling images of ordinary people for use in greeting cards and other things for public use on the internet.  He was in business here for a long time and in  that time he must have assembled a lot of images.  If he needs an old Asian woman, he has a picture of one and in this case he needed a picture of a grandmotherly American old lady, so my mom's picture was the one he used.  According to the police in Thailand, what he is doing is not illegal but his images sell to internet sites and other outlets for over $200 or more."
"My mother had a great sense of humor and was a jolly laugher, but to have people think that my mother was really a gun toting, foul mouthed old lady really hurts.  She would not have liked this at all.  She was diagnosed with congestive heart failure and she died on the Fourth of July in 2002.  One of the things she told me when I visited her was that she hoped people would remember her.  I don't think this Facebook thing is what she had in mind."