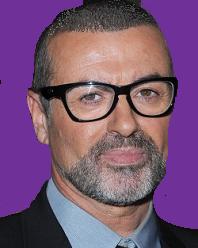 Singer George Michael, the former leader of the 80s duo WHAM — is in an Austrian hospital and his condition is very serious.  He is suffering from CAP, or "Community Acquired Pneumonia" and he had to cancel performances indefinitely.  He's been looking pretty run-down for the past year.
But, according to sources: George Michael is recovering from his bout of severe pneumonia and "getting stronger all the time", according to his partner Fadi Fawaz. 
I don't like when reps and publicists make these "everything is fine" comments because they almost always mean that the celebrity in question is about to check out for good.  I think it's better to say nothing than to lie — but maybe he is not lying.  Let's hope so.
The celebrity hairdresser (Fedi Fawaz) has been keeping a vigil by Michael's bedside at AKH Hospital, in Vienna, for the past week.
What the press fails to mention is that George is on a ventilator and you have to be really bad off to be intubated for pneumonia.  Why was his family called to his bedside?  What really went wrong with the much loved singer?
Fawaz  said that the George Michael  "is doing well and is in good spirits" but I sadly don't believe this to be true.
Michael, who has been forced to abandon his tour, was taken to hospital with agonizing chest pains last Monday, hours before he was due to take to the stage in the Austrian capital.
George Michael is being treated for CAP severe Community Acquired Pneumonia in intensive care.   All AIDS rumors aside — this is not an AIDS defining pneumonia, but it is a form of pneumonia that's pretty severe and often affects elderly people, children, or people with underlying illnesses.  I am not saying that George Michael has any underlying illnesses, but it's unusual for a man his age to end up on a ventilator because of pneumonia. 
 Mr Fawaz and a female companion declined to comment as they left the hospital yesterday.
But the 38-year-old stylist, who has worked for celebrities including Naomi Campbell, earlier said that Michael was improving.
He added: "George is trying to stay upbeat.
"He is smiling through it all and everyone is just willing him to get better.
"I've been with him every day and his condition is getting better."
Michael has been going out with Mr Fawaz for only a few weeks, after breaking up with his long-term partner Kenny Goss earlier this year.