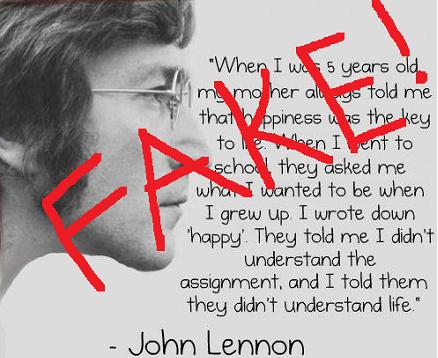 ANOTHER FAKE FACEBOOK QUOTE:
It never ends.  Somebody saw a quote that was easily attributed to John Lennon simply because the words were pasted on top of the picture.
It's a very corny and snarky quote and of course the misfits on Facebook fall for it because they want to believe that John Lennon actually said it — he did not.  In fact, he never really said much of anything worth quoting unless you count song lyrics.
The quote is anonymous and douche bags the world over on Facebook have decided that John Lennon must have said it because it's so "cool" and so "edgy" and sooooo something John Lennon would have said:  It goes like this.
"When I was 5 years old, my mom always told me that happiness was the key to life. When I went to school, they asked me what I wanted to be when I grew up. I wrote down "happy." They told me I didn't understand the assignment and I told them they didn't understand life. " <——- JOHN LENNON NEVER SAID THIS!!!!
The fake quotes just go on and on and on and on and on and on.  There are websites where people claim that their kid said it in school.  The quote has also been attributed to George Gershwin, Judy Garland, Cher and even Abraham Lincoln. etc. etc. etc.  In other words, the quote pre-dates John Lennon, so obviously he could not not have said it.
It's a quote that somebody made up and now the mass belief is that John Lennon said it — HE DID NOT!  Nowhere in any John Lennon archive is this found on tape or in print.
Listen:  If you see a quote you like — FIND OUT WHO REALLY  SAID IT!  Don't just assume that the morons-only ispirational picture that one of your retarded friends on Facebook shared with you is real — LEARN TO FUCKING THINK!
Here is the final word on this from an expert!
"There is a phenomenon in social circles – and Facebook is indeed a social circle – whereby  someone hears a quote and attributes it to someone else because the quote 'sounds' like something that person would say.  Some people call it a variation of 'The Matthew Phenomenon' which is a somewhat vague sociological term that refers to the rich getting richer as it applies to reading and scholarship.  In other words, a phrase is heard and attributed to a person who never said it simply because the quote sounds like that person said it.  With that in mind,  the famous person is made even more famous by the misattribution of a witty or thought provoking quote." [Dean Traherne MD PhD. University of Barcelona School of Psychiatric Studies]
In spite of Dr. Traherne's scientific explanation, I think that if John Lennon had really said anything– it would probably have been….
 "When I was 21 years old, my mom always told me to get the fuck outof the bloody house because I was a bleedin' wanker. When I went to school, they asked me what I wanted to be when I grew up. I wrote down "I want to marry an ugly and untalented Japanese woman." They told me I didn't understand the assignment and I told them they didn't understand that I would one day be misquoted by assholes. " [Damien]