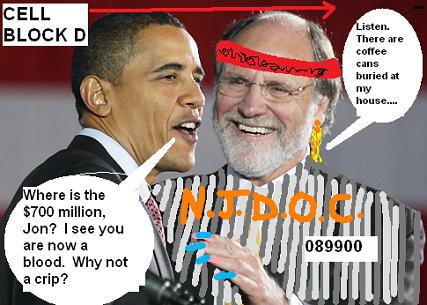 Former New Jersey Governor, Jon Corzine — the bald, inept, money grubbing villain who threw the gay governor Jim McGreevey under a bus to steal the office of Governor,  has suddenly resigned as CEO of MF Global after that company "misplaced" $700,000,000. 
Corzine has also opted to not take his $12 million retirement parachute — isn't that nice?   In my opinion, Corzine and his buddies stole the money.  There is no limit to his greed.  This is the kind of Governer New Jerseyans were smart enough ( for the first time ever) to vote out; bringing in instead, an honest guy who is trying fix the mess that Democrats have created in the Garden State.
Mark my words — the Feds better keep an eye on this scum bag because he is a flight risk.  I would bet that he tries to leave the country.  There is no creature on earth slimier than this scum bag. I will bet anything that he winds up in JAIL — unless he flees to South America.
What happened to the $700,000,000?  Why did he suddenly take on an attorney?  In my opinion, he did all of these thing because he ROBBED the money!
Scum Corzine has hired Andrew J. Levander, a leading white-collar criminal defense lawyer, (in other words, a scum bag) according to three people briefed on the matter, as the former New Jersey governor deals with fallout from the collapse of MF Global, the brokerage firm he has run since last year.
The SEC is investigating, but the FBI should be investigating.   Bring back the gay governor.