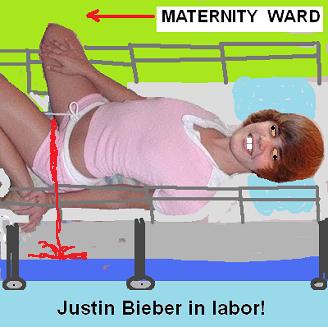 Justin Bieber has had it pretty easy in his young career. Other than outrunning packs of screaming teenage girls and boys and deciding when is too early to release a Christmas album, the 17-year-old singer hasn't faced many challenges in his rise to the top of the music world even though the rumor is that he is a bottom.
 A woman named Mariah Yeater is claiming that Bieber is the father of her 3-month-old baby boy. Yeater filed legal paperwork demanding that Justin take a paternity test to "scientifically confirm" that he is the father, and that she's seeking "adequate support for my baby." It was all about to get all Maury Povich but now the paternity tests have been rushed in order to protect Bieber's reputation.
Yeater said in a signed affidavit that she met the singer backstage after Bieber's October 25th, 2010 concert at Los Angeles' Staples Center and they had sex.  LOL — go ahead and laugh.  It's so absurd and this whole thing is such a publicity stunt, but let's say we play along and see what the paternity tests revealed today.
The results of the paternity test are now in according to the Paternity Testing Diagnostics of Van Nuys, California.  In a strange twist of events, the paternity test has proven that Justin Bieber is NOT the father of the baby.  He is THE MOTHER!  
Doctors are scrambling to find an explanation for this, but look for it on an episode of "I didn't Even Know I Was Justin Bieber And I was Pregnant.