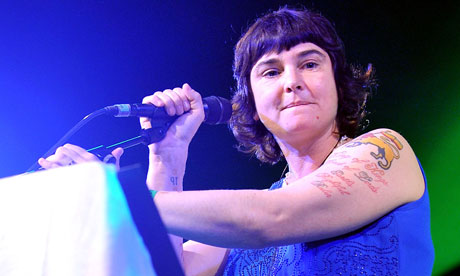 Not so very long ago Sinead O'Connor was a hip young, sexy singer who got her 15 minutes of infamy by ripping up a picture of the Pope after singing a song on "Saturday Night Live"  and declaring him to be "The real enemy."
 She had her head buzzed and got a huge billboard hit with "Nothing Compares To You" — a sentimental ballad written by the grossly overrated, incredibly short and neatly closeted purple queen, Prince– or whatever he is calling himself these days.
Sinead was a big star and she was kind of pretty too even though her shaved head and scrawny appearance made her look like a war refugee.  But that was the thing back then — heroin chic.
Now Sinead is a fleshy old Irish lady — she looks like she should be on a boat headed for Ellis Island in 1902.  Wow did she get old and matronly.  She looks a bit like Susan Boyle despite the fact that Boyle is a Brit and Sinead is Irish — like there's a frigging difference?
Rumor has it that Pope John Paul II, the guy who she ripped up on live TV, is almost a Saint and he has revealed this as his first miracle on earth.  
"Man — does she look like an old hag or what, " said a Vatican Cardinal who refused to be identified.  "He really ripped into that Irish bitch and made her look like an extra in 'How Green Was My Valley.'    She looks like she's in the middle of her own potato famine. 
Sinead, TheDamienZone would like to say, "Nothing compares, nothing compares to how old and shitty you look.