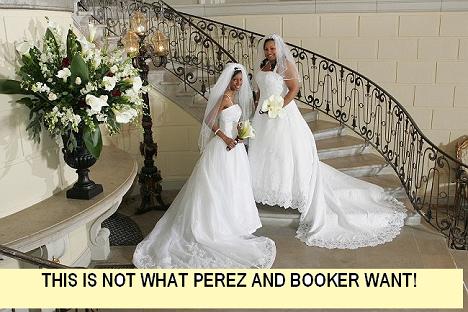 The gay marriage law in New York is only hours old and already there has been a fist-fight over Lesbian wedding plans between Janet Perez and Chris Booker, both of the Bronx.
Perez and Booker have been happily partnered since 1997 but now that marriage has become an option, the two women and their families are fighting like caged animals over wedding photos and attire.
"I want to be the one with the crew cut and the tuxedo," fumed Perez from the apartment she shares in the South Bronx with Booker.  I even made an appointment with my friend Alex at his salon to get that gray skunk streak bleached into the front of my hair. 
"I'm already overweight so it's only common sense that I should be the one with the two-toned crew cut and the tux.  Besides, she's black!  How can you tell if a black person has a genuine military crew cut and not just a Brooklyn fade?"
The Bookers and the Perez's are going at it tooth and nail, but Chris Booker wants to get this settled with a little more diplomacy.
"We were always both very dyke-ish," said Booker from the fire escape of the apartment she shares with Perez.  But I am faster, I'm stronger, I'm smarter and I'm just better at everything so I feel that I should wear the tux and get the crew cut with the gray streak.  If we were man and woman the choice would be obvious, but since we're both women we are having this war.  If this bullshit doesn't stop, I'm going to hook up with some young Jewish lesbian because I get a lot of chances like that but I overlook them because I love Janet.  Now I am not so sure."
Evidently the argument between the two families got out of hand last night and there was a wild fist fight when both families piled on each other and started swinging.   The Perez family was at an advantage because they had knives, but level heads prevailed and nobody was seriously hurt, although six pit bulls were slightly injured in the battle.
"I have three pit bulls and she has three pit bulls," said Perez after the fight.  We want them to be in our bridal party but now things are not looking so good."
The non-denominational Vicar who will perform the ceremony suggested that both women wear a a tux and both should get a crew cut with a gray streak, but thet didn't sit well with the angry Lesbians.
"Right now my daughter, she  is talking to the tattoo parlor," said Janet Perez's mother Elmenda ElJolla of Washington heights, NY.  "She no want that tattoo of Chris no more and I don't know what will happen.  My pit bull Clarabella is sad because she wanted to be in the wedding too and as soon as I get her out from the animal control I am going to get a nice dress for her."