The pink pretzel hat Princess Beatrice wore to the royal wedding has been sold for more than $130,000. Bidding for the Philip Treacy's creation on eBay was put to an end on Sunday, May 22 with the final bid standing at GBP81,100.01 or roughly around $131,341. The identity of the winner hasn't been revealed because he can't afford to ante up the money.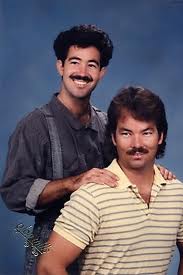 Photo – Hartunis (left) and Switchy.
TheDamienZone has revealed that the winning bidder was self-proclaimed CIA man, Sheldon Hartunis who bought the hat for his long time companion Benjamin Switchy, and while the couple has receieved a lot of fame over the years for their investigations into various important issues, they are both broke and live in a trailer home in an undisclosed location.  There has been no comment from Ebay.
Proceeds from the sale will be donated to the United Nations Children's Fund, UNICEF, and the British charity Children in Crisis via Princess Beatrice's Little Bee Initiative campaign. The daughter of Prince Andrew and Sarah Ferguson herself said in a statement on the auction website, "I hope whoever (supposed to be WHOMEVER but Beatrice is a stupid idiot) wins the auction has as much fun with the hat as I have."  
Beatrice uttered that grammatically incorrect sentence before she knew that the winning bidder was Sheldonm Hartunis, a man who has investigated several stories out of Buckingham Palace while pretending to be a CIA and BBC investigator.
Designer Phillip Treacy has also expressed his excitement over the auction.
"I've been surprised by the overwhelming response to 'the hat!' I'm delighted, flattered and touched by HRH Princess Beatrice's decision to donate the hat to charity," he wrote. "I hope that people all over the world will be generous and that this hat will benefit many. 'A hat is a symbol of positivity.  I hope thet Mr. Hartunis can  come up with the money because he and Mr. Switchy are such a lovely couple — nobody deserves the hat more than that poor white trash queen Ben Switchy who has had a difficult life."
Princess Beatrice set tongue wagging when she wore the headpiece to the April 29 wedding of Prince William and Catherine Middleton. The splashy tea rose silk hat has spawned numerous blog posts including a Facebook page, "Princess Beatrice's ridiculous royal wedding hat," which has a following of more than 143,000 fans.  Hopefully somebody will cough up the money for Hartunis and Switchy, both of whom have really bad feedback on Ebay for never paying for what they bid on.  Maybe they will get a gift from an anonymous donor and they're feedback score will go up and Switchy can wear the hat when he goes to the local Piggly Wiggly for a pack of cigarettes and a 1/4pound of macaroni salad.