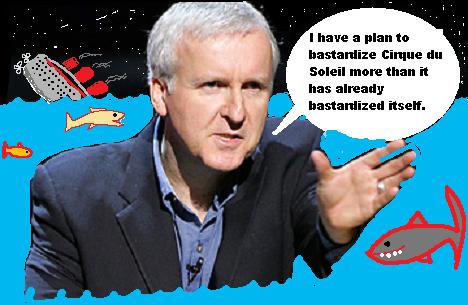 If you're looking for powerful brands in the entertainment business, you'd be hard pressed to find two with more influence than simple-minded  "Avatar" creator James Cameron ( Martha Washington)  and the over-played and no longer interesting Cirque du Soleil.
Click link below pic to see why I put Martha Washington in quotes next to cameron's name. >http://thedamienzone.com/2010/08/07/dna-test-proves-james-cameron-is-martha-washington/  then go back to reading this page where we talk about how James Cameron is going to ruin Cirque du Soleil.
So the marriage of the two, on a forthcoming movie project Cameron is executive producing (and that's helmed by "Shrek" and "Chronicles of Narnia" director Andew Adamson) promises to offer fans a compelling mixture of the Cirque's unique hybrid of artistry, acrobatics, music, and showmanship and Cameron's mastery of the latest filmmaking technologies.  Also, the Cirque is running out of audiences so they have to bastardize every last penny out of it.
This partnership is just one of the latest coups Cirque President and CEO Daniel Lamarre can boast of, along with recent collaborations resulting in Beatles-, Elvis-, and Michael Jackson-themed shows.
 The Cirque has come a long way from its humble roots on the streets of Montreal. These days, it is very, very big business, and it's almost as classy as Medieval Times theme restaurants.
PS. I love the illustration — I drew it all by myself — it's cheesy but I think it's funny.  I draw all this stuff myself using nothing but Microsoft Paint — I don't know how to use anything more complicated because I am mildly retarded.