It happens eventually to all men who become very famous very quickly.  In this case the gay scandal involves  MTV's Jersey Shore costar Mike "The Situation" Sorrentino.  His eight pack of abs and his way with the women may seem like a girls dream, but the scandal comes about when The Situation gets caught in a gay scandal and becomes the center of a gay man's dreams.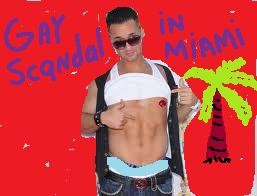 First of all, The Situation is not as young as MTV makes him out to be.  In fact he is nearly thirty, and some rumors put him at closer to forty-five.  This was revealed in one episode of Jersey Shore when one of the female characters, in a fit on anger, calls him "A fifty year old man."
Whatever his age might be, The Situation is not above having a gay scandal in his past and recently it was revealed to TheDamienZone that a gay couple in Miami had a huge fight that led to the breakup of their twenty year relationship when one of the partners became obsessed with The Situation and stalked him.  In one instance the world's most famous Guido made a quick exit from a hotel totally unaware that he was almost snared by  an obsessed gay man.
Cosmetic dermatolgist, Jorge Escadero,37, was so taken away by the reality show's muscles and his famous cheek mole, that in a jealous rage he knocked out Oscar Penta, 44,  his lover of twenty years, with a brass lamp and went out into the nights of Miami in search of The Situation who had just walked past their hotel room in Miami.
"Dr. Escadero allegedly hit Oscar Penta with a heavy brass lamp and knocked him out," said special investigator and expert in gay stalking and celebrity protection, Benjamin Switchy. 
"He had previously had a thing for Enrique Inglesia and was fascinated by his muscles and the large mole on his Inglesia's face.  From a psychological standpoint, it seems that Escadero has a muscle and mole fetish, and when Inglesia had his mole removed, Escadero turned his attention to  the much more muscular, but less handsome, and less talented Mike The Situation.  It was a recipe for alcoholic disaster and these psychological factors are probably what led Escadero to become a dermatologist who specialized in facial moles."
"Escadero and Penta had seen The Situation walk by the Miami hotel where they were staying and Jorge's lustful comments caused a fight to erupt between the two.  Other hotel guests heard Escadero screaming from the balcony that he was going to make gay love with The Situation.  When Penta tried to silence him, he was struck over the head and rendered disoriented and later required ten stitches to close the wound in his head.
"Escadero proceeded down Collins Avenue in Miami's fashionable South Beach.  He thought he could catch Mr. Sorrentino and eventually he did.  He saw him go into a hotel and he followed him.  As The Situation went into an elevator Escadero went berserk in the lobby and started to strip and gyrate while singing a song of love wherein he mentioned The Situation's name."
According to Switchy, The Situation was unaware that any of this had happened because he was already eight floors above the crazy scene, but tongues were wagging in the crowded lobby because it looked as though Mike was somehow involved with Escadero.  It didn't help that Escacdero went around the lobby telling everyone that he had been having sex with The Situation all week and that they had just had a big fight over who would be the top or the bottom in a sex act.
None of this turned out to be true and when police were able to interview the shaken Penta he said that Escadero had been in a downward spiral ever since MTV started airing Jersey Shore.  According to investigators, Escadero had been drinking heavily and traveling the country trying to establish a relationship with The Situation.
Escadero was kept in a holding cell and he was eventually released and charged with a misdemeanor.  Escacdero and Penta are now  undergoing psychological counseling,  but a lot depends on Escadero remaining sober and committed to his relationship with Penta and if he can overcome his maniacal attraction to men with muscles and facial moles.
Escadero released one statement to the press.  "I am thankful that John Boy Walton was not muscular because that mole would have driven me to jealous murder."