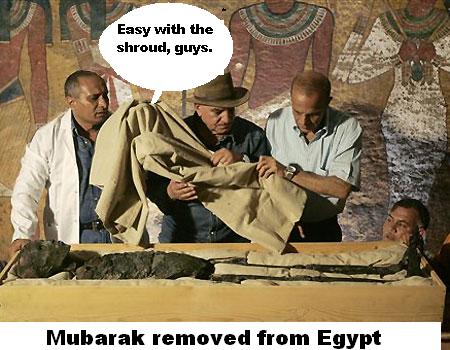 Egyptian President Hosni Mubarak was secretly taken out of Egypt last night by secret operatives from  The Discover Channel which plans to do a prime time special where scientists prove with DNA and Mennan Skin Bracer, that Mubarak is really 4,000 years old.
"We took him away during the protests," said Azowri Mulmiddamin, a local florist and shroud fashioner.
"It was first believed that he was sleeping with Marilyn Monroe's exhumed body," continued the flamboyany florist.
" He always loved Marilyn Monroe and Jimmy Carter gave him her corpse if Mubarak promised not to attack  Isreal.  But the bony woman turned out to be Mubarak's long-suffering wife who seems to have suffered tremendously under the strain of the past few weeks of insanity."
Plans are to send Mubarak and his wife to Switzerland where they will share a chalet with Julian Assange.  Marilyn Monroe's body, when it is located, will be sent back to Westwood Memorial Cemetery in Los Angeles.  Mubarak's wife will undergo months of therapy and lots of goat chops.