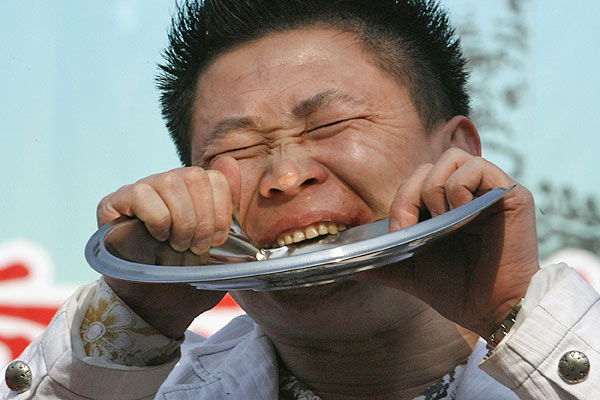 WHILE LISTENING TO THE MELODY EMITTED BY A UFO AND WATCHING THE SKIES IN AWE,   A 29 YEAR OLD, MAN  WHO'S NAME IS ALMOST THE SAME AS THE LYRICS TO THE UFO'S  SONG, WAS HIT IN THE MOUTH BY A SMALLER UFO THAT FLEW FROM THE MOTHER SHIP.
The UFO in China that caused an airport to shut down yesterday played music, but it was in Chinese, and when one man got too close to the mysterious craft, he got more than a mouthful.
"Pong – Ping – Ching – Chong – Pong," hummed 29 year old Ping Chow Chang Pow of Chang Ching Ping Gong City, as he imitated the tune emitted by the strange craft. 
"It was the same merody as Steven Seerberg movie too . You remember the rittle ditty that the UFO's in "Crose Encounters of the Third Kind" riked to pray, right?
"I was rooking at the sky and suddenry my mouth start to hurt me velly bad.  I rook down and see that there is a UFO in my mouth.  It rooked rike a shiny dish of noodles with diced crams but that was just my throw up."
"I never get hit in mouth by UFO," said whatever his name was.  "I am velly velly rucky to be arrive."  
He sure is!  Doctors at Ping Pong Diong Ching hospital had to remove all …well, both of his teeth.  The Chinese air force was disturbed enough about the UFO citings to shut down a major airport.  Nobody else was hit by miniature UFO's but there are so many Chinese people that a lot of hits might have gone unnoticed or simply mistaken as starving peasants slurping rice from their dishes.